This is an archived article and the information in the article may be outdated. Please look at the time stamp on the story to see when it was last updated.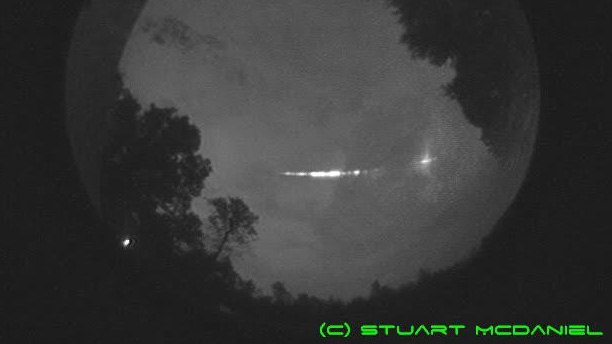 A meteor/fireball was spotted over parts of North Carolina around 10 p.m. Wednesday night.
Several FOX8 viewers in Greensboro, Lexington and several other cities reported seeing the fireball shoot across the sky shortly before 10 p.m.
Stuart McDaniel posted a photo of the meteor/fireball on his Facebook page. The photo was taken in Lawndale, which is located in Cleveland County.
McDaniel also posted a short video of the meteor/fireball shooting across the sky.

A website that tracks meteor and fireball sightings reports several people reported the meteor/fireball on Wednesday.
The website lists reports from Lexington, Asheville, Chapel Hill, Weaverville, Boone and Charlotte.
Most people reported seeing a "bright light" or "green flash" across the sky between 9:45 and 10:15 p.m.
Several FOX8 Facebook fans also reported seeing the fireball.
"I thought I saw a very bright light shooting across the sky around 9:55 p.m. I was driving and came up on trees around the same time so wondered," Amber Goforth Blue wrote.
" I was driving through Winston-Salem on Business 40 when i saw it! Beautiful!" wrote Jenn Jones Lewis.