Rain is moving in from the northwest across the mountains of NC and VA approaching the Piedmont this evening.
Most of the rain has been unable to reach the ground this afternoon due to drier air at the surface causing rain to evaporate before reaching the ground.
Cloud cover continues to increase Sunday evening, leaving us with mostly cloudy skies and the chance of a stray shower. 
As temperatures begin to drop overnight, the air will become more saturated giving a better environment for rain to begin to fall.
Overnight, mostly cloudy with stray showers possible. Lows will fall into the mid 60s by Monday morning. 
Monday will be mostly cloudy with off and on showers and storms possible throughout the day.
A level 1 severe weather threat is in place for storms Monday afternoon. Small hail and gusty winds will be possible with a few stronger storms that develop. Highs reach the upper 70s and low 80s. 
Following Monday's low-pressure system and rainfall, afternoon temperatures will be in the mid 70s Tuesday through Thursday with mostly cloudy skies.
Stray showers remain possible through mid-week although most will stay on the drier side. 
Another round of scattered showers and storms move in Friday and Saturday with highs in the low 80s. 
Greensboro Radar
Today's Forecast for Greensboro
63°F
Cloudy
Feels like 63°
Wind

5 mph S

Humidity

95%

Sunrise

Sunset
Tonight
64°F
Thunderstorms early, then variable clouds overnight with still a chance of showers. Potential for severe thunderstorms. Low 64F. Winds NE at 5 to 10 mph. Chance of rain 70%.
Wind

7 mph NE

Precip

70%

Sunset

Moon Phase

Waning Gibbous
North Carolina Weather
7-Day Forecast
Triad Radar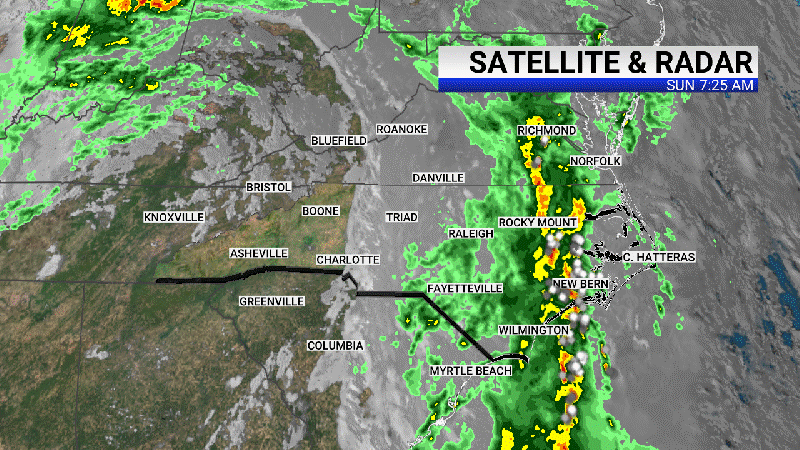 Regional Temperatures