We are entering a period of several days of unsettled weather.
There is a chance for more scattered storms this evening with a low near 70.
We are at a marginal risk to see some strong and possibly damaging winds this evening and a slight chance for more hail.
Sunday will start off sunny, with increasing clouds through the day and a chance for another round of isolated storms Sunday afternoon and evening.
There is a slight risk some of those storms could also have some damaging winds involved. The high Sunday will once again be near 90.
A cold front will be coming through Monday, bringing another chance for stormy weather and much cooler temperatures. The high Monday should be in the mid 70s with the low Monday night dropping into the 50s.
Tuesday looks to be the coolest day of the week, with a high near 70. That cold front coming through Monday is expected to stall to our south and bring us a chance for rain each day next week. 
Greensboro Radar
Today's Forecast for Greensboro
70°F
Partly Cloudy
Feels like 70°
Wind

5 mph S

Humidity

82%

Sunrise

Sunset
Tonight
69°F
Scattered thunderstorms in the evening, with mostly cloudy skies overnight. Low 69F. Winds SSW at 5 to 10 mph. Chance of rain 40%.
Wind

8 mph SSW

Precip

40%

Sunset

Moon Phase

Waning Gibbous
North Carolina Weather
7-Day Forecast
Triad Radar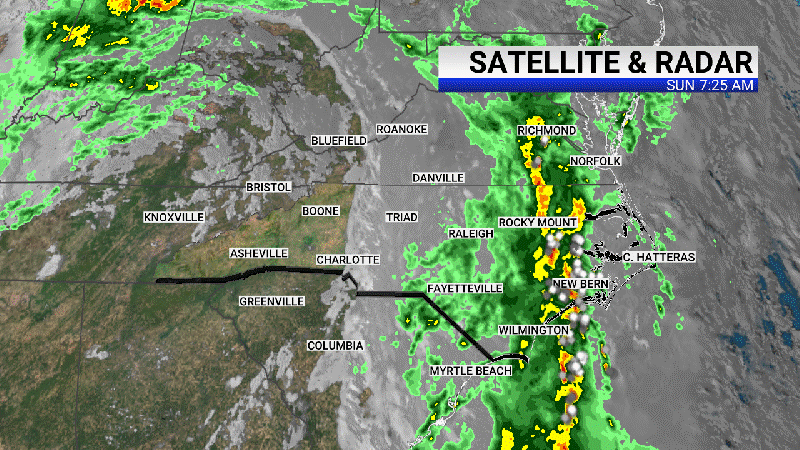 Regional Temperatures