FOX8 MAX Weather Center says,
A potential tropical storm could bring rain and windy conditions to the Piedmont.

During the day Friday, a tropical system off the Southeast coast, will begin moving toward North Carolina. As the system moves our way, clouds will build across the Piedmont. With cloudy skies overhead, afternoon highs will be in the middle 70s. The rain should hold off until late Friday evening. Our wind gusts will run between 20 and 25 mph. Best rain chances will be Friday night into Saturday morning. Wind gusts will range between 20 and 30 mph.

By Saturday, we could have a tropical storm moving along the coast of North Carolina and Virginia. Here in the Piedmont, Saturday morning showers will become scattered during the day. A breezy north wind and clouds will keep our high temperatures in the upper 60s. Wind gusts will be between 20 and 30 mph. The Piedmont will see less than an inch of rain. Higher rain totals will fall across eastern North Carolina.

The tropical system will begin moving away from the East Coast on Sunday. In the Piedmont, the overcast skies will break and we will see some sun. Highs on Sunday will climb into the middle 70s.

Monday, partly cloudy with highs near 80 degrees.

Tuesday, a slight chance of rain with highs in the middle 70s.

Better rain chances on Wednesday with highs in the lower 70s.

Slight chance of rain on Thursday with highs in the lower 70s.
Graham Radar
Weather across the Piedmont Triad
North Carolina Weather
7-Day Forecast
Triad Radar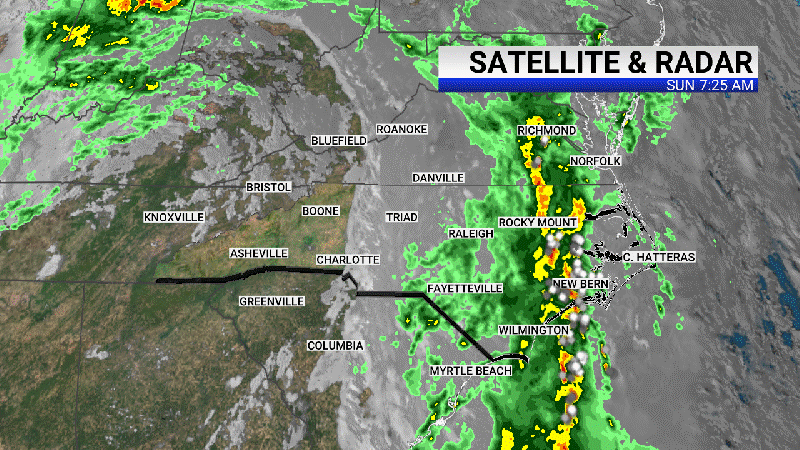 Regional Temperatures