FOX8 MAX Weather Center says,
We're starting with patchy fog this morning, but temperatures are very mild, in the lower 50s. After sunrise, clouds and fog will lift and it's going to be a delightful day with highs in the mid-70s. Expect breezy conditions this afternoon, with winds between 12 and 18 mph.
Mostly clear skies are in the forecast for tonight with lows in the upper 50s.
Friday will be our warmest day of the week, as highs soar into the mid-80s! It will be partly cloudy until late, and a cold front is going to make this a brief taste of early summer.
The PTI Run on the Runway is Saturday morning, and we're expecting light rain and a lot of wind. Temperatures will be in the mid-60s with winds gusting up to 25 mph. The chance of rain in the morning is 60%, but it will drop to 20% by mid-afternoon. Winds will actually increase to between 20 and 25 mph with gusts 30 to 35 mph. High temperatures will be in the mid-70s Saturday and again Sunday. It will be really pretty Sunday as well, with mostly sunny skies.
The new work week begins with temperatures that are more typical of this time of year. Highs will be in the mid-60s Monday, then cool to the lower 60s Tuesday and Wednesday. It's going to be rainy Monday and Monday night, then more and more sunshine is expected by the middle of the week.
Eden Radar
Weather across the Piedmont Triad
North Carolina Weather
7-Day Forecast
Triad Radar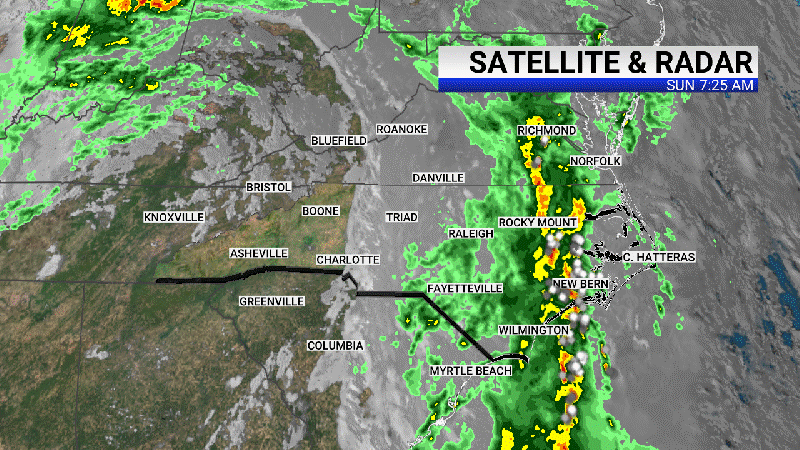 Regional Temperatures