This is an archived article and the information in the article may be outdated. Please look at the time stamp on the story to see when it was last updated.
We can now feel the chill in the air. We've already had our first freeze, it came early this year.  Does this mean a colder winter?  There has been much talk about El Nino, does that mean more snow?  Depending on the source, there are all kinds of winter forecasts out there and many are written to grab attention.
First of all, there is no correlation to an early freeze with a cold or mild winter.   Many of the years when the freeze comes later, we had lows that reached 33 degrees weeks earlier.   This is the year we dropped to 32 instead of 33.   So by one degree, our first fall freeze was early this year.   More proof: in 2009 our first freeze was Dec. 1 (a month later than normal).   We had 16.6 inches of snowfall that winter season when March is included.
When it comes to El Nino, the warming of the water along the equator in the eastern pacific, it does have a more significant role on the weather patterns.   Notice in the image below under El Nino the warm water off the pacific coast.   The opposite for La Nina shown on the right.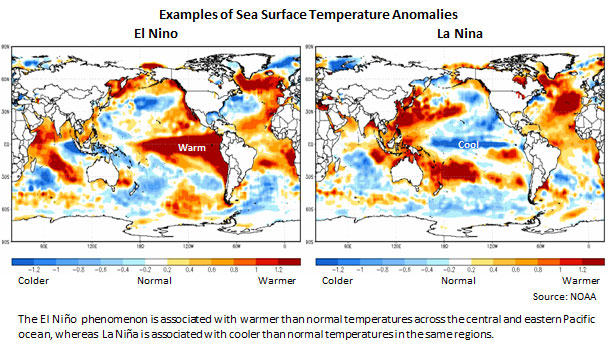 El Nino, especially a strong El Nino like we have this year, usually leads to above normal precipitation, especially on the west coast and deep south.   Here in North Carolina it may mean one or two more wet days as compared to normal.  Due to the extra cloud cover, it also often leads to cooler days over the deep south where the sun would otherwise have more days to warm.  It does not mean there will be more arctic outbreaks.  Cooler only because of more cloud cover. As a matter of fact, the northern parts of the country are typically warmer than normal. Some parts of the country are even drier.  But, that is not usually the case in the southeast.
Below is the temperature outlook and it shows odds favor near normal temperatures here in North Carolina.  In the Piedmont Triad that means highs average near 50 and lows near 30 for the winter season, December to February.
Odds do favor wetter than normal weather over North Carolina this winter. Note the graphic below.
As a matter of fact, the entire southern part of the country and much of the east coast are expected to be wetter than normal. Again typical of an El Nino year.
Speaking of odds, when it comes to snowfall this winter, odds favor a little more than normal due to the fact that it should be wetter with normal temperatures. We average 9 inches of snow per year (just over 6.5 inches when only using the meteorological winter months of Dec-Feb).
We also average around 2.5 inches in March which brings the total up to 9. So with all of this said, this cold season we should be prepared for more than 10 inches of total snow/sleet accumulation. I throw in the sleet because that is also included with snowfall totals.