This is an archived article and the information in the article may be outdated. Please look at the time stamp on the story to see when it was last updated.
Did you know that May is the most likely month for a tornado in North Carolina? More than 200 since 1950 have occurred in the month. Fortunately the numbers drop dramatically in June. The main reason for the higher number in spring is the cold fronts and a stronger jet stream that we still see in the area. These cold fronts become less common and weaker in the summer months.  Many of the tornadoes in late summer and early fall are from tropical systems (hurricanes, tropical storms, depressions, etc.).

It is interesting to note that the number of deaths and injuries is actually highest in March and April. November is even ahead of May. The November numbers are high because we had some bad overnight storms that caught many off guard. A couple are linked below
1998
http://www4.ncsu.edu/~nwsfo/storage/cases/19881128/
1992
http://www4.ncsu.edu/~nwsfo/storage/cases/19921122/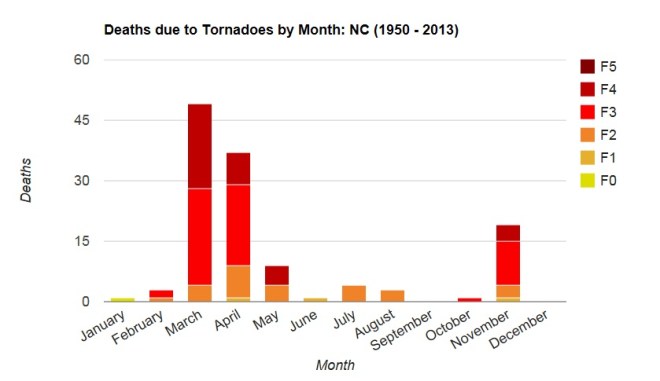 The facts suggest that the worst of Tornado Season is about to wind down. However, in North Carolina we shift to more common thunderstorms produced by heat over the coming months. The storms in the summer are known for producing more lightning, heavy rain and flash flooding and sometimes very strong straight-line winds. So don't let your guard down.