The 2023 free agency period continues to roll on, but we now have a clearer picture of how many rosters are going to look heading into the summer months. That means it's time for fantasy managers to dig deep into the depth charts and start getting their rankings ready for the best-ball and re-draft madness that is just around the corner.
We've already examined the biggest winners and losers among players who have changed teams, so now let's take a look at how player movement affected those who didn't see a change of address. Whether it's based on talent, depth chart or a combination, here's a guide to which player values might be moving up or down.
Winners
Tony Pollard, RB, Dallas Cowboys: The Cowboys released Ezekiel Elliott, leaving Pollard as their unquestioned top running back. If you're a Cowboys honk like me, though, you're dreaming of Bijan Robinson wearing a blue star on the side of his helmet next season. At least for now, Pollard is a locked-and-loaded fantasy RB1.
Kenneth Walker, RB, Seattle Seahawks: Not that there were any doubts, but the free-agent losses of both Rashaad Penny (Eagles) and Travis Homer (Bears) locks Walker into a true featured role next season. The runner-up for the 2022 Offensive Rookie of the Year award, Walker will be a rock solid, top-24 overall selection in most drafts.
Nick Chubb, RB, Cleveland Browns: Free agency isn't yet over, of course, but at this point Chubb has to be considered a winner. The Browns don't seem to have a lot of interest in bringing back Kareem Hunt, and D'Ernest Johnson is also a free agent. If either or both leave as free agents, Chubb will be an even better option.
Justin Fields, QB, Chicago Bears: Fields is a fantasy winner because the Bears improved the players around him. They traded for D.J. Moore, who gives Fields a No. 1 wideout, and helped the offensive line by adding Nate Davis. The Bears also added D'Onta Foreman and Robert Tonyan, further improving Fields's options.
Khalil Herbert, RB, Chicago Bears: The Bears did sign Foreman, but the team lost its previous starter in David Montgomery (Lions). Foreman's contract (one year, $3 million) doesn't feel like that of a starter, so I still like Herbert to be Chicago's lead back. He showed some real flashes last season and could really bust out in 2023.
Rachaad White, RB, Tampa Bay Buccaneers: The Buccaneers have cut ties with Leonard Fournette, leaving White as the current favorite to start in what will be a new-look offense. Tampa Bay could swing for the fences in the draft and take the best back, Robinson, but for now it's White whose fantasy stock is on the rise.
Daniel Jones, QB, New York Giants: Jones, coming off a top-10 fantasy finish at the quarterback position, is in a good spot to produce again in 2023. The Giants kept Saquon Barkley (franchise tag), retained Sterling Shepard and Darius Slayton and traded for Darren Waller. That's a big weapon for Jones to use in the pass attack.
K.J. Osborn, WR, Minnesota Vikings: I love me some Osborn for next season. The Vikings released Adam Thielen (who then signed with the Panthers), leaving Osborn as the new No. 2 wideout behind Justin Jefferson. Osborn made a real impact at the end of last season, putting up at least 16.2 fantasy points in each of his last four games. Jump on the bandwagon!
Kadarius Toney, WR, Kansas City Chiefs: The Chiefs lost JuJu Smith-Schuster to the Patriots, and Mecole Hardman is still a free agent. While the team could make a big move (like trading for DeAndre Hopkins), both Toney and Skyy Moore have seen their draft value rise for now. They're also very nice options in best ball formats.
Jordan Love, QB, Green Bay Packers: Aaron Rodgers is getting traded to the New York Jets (right?), so Love should be the new starting quarterback in the Land of Cheese. It's the chance of a lifetime for the former first-round pick, who'll finally get a chance to show his stuff and potentially make an impact in the fantasy world.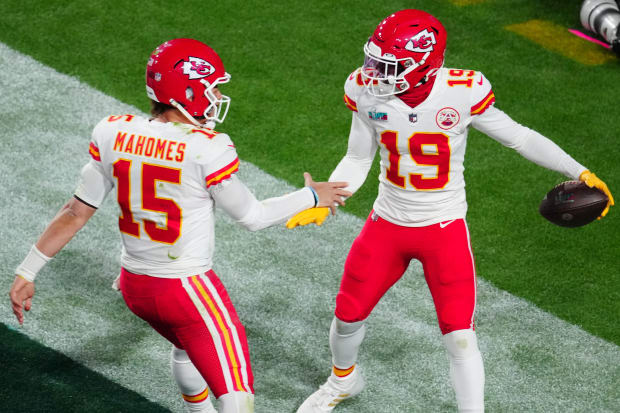 Losers
Patrick Mahomes, QB, Kansas City Chiefs: Mahomes, a loser? How dare you! I know, I know. But he has lost Smith-Schuster and a stud offensive lineman, Orlando Brown, who signed with the rival Cincinnati Bengals. Mahomes will be fine, and the Chiefs have plenty of time to make more moves, but he's lost some talent so far.
Alvin Kamara, RB, New Orleans Saints: The Saints went out and signed the NFL leader rushing in touchdowns from last season, Jamaal Williams, to a three-year deal. That is going to hurt Kamara, who is already a regressing player in the stat sheets. He could also be facing a league-imposed suspension for an incident back in 2022.
D'Andre Swift, RB, Detroit Lions: Two years ago, I wrote an article about the "Curse of Barry Sanders" (you can find it here). Basically, it shows how all the backs the Lions have drafted prominently since Sanders have been duds due to injuries. Swift is the latest example, and the team adding Montgomery hurts his draft stock.
Mike Evans, WR, Tampa Bay Buccaneers: Let's list both Evans and Chris Godwin here, as this dynamic wideout duo will go from catching passes from Tom Brady to Baker Mayfield. That's a huge downgrade. I'm not saying Evans and Godwin can't be startable fantasy assets, but it's hard to think their ceilings haven't been lowered.
Chase Claypool, WR, Chicago Bears: Claypool went from being the potential No. 1 wideout in Chicago to being maybe third or fourth in the pecking order. The team added Moore to be its new No. 1 wideout, and incumbents like Darnell Mooney and Cole Kmet will also see their share of targets. Claypool is a late-rounder in drafts.
Hunter Henry, TE, New England Patriots: The addition of Mike Gesicki to this offense will be bad news for Henry, who will no doubt see fewer targets in the pass attack. Henry is also a far better blocker than Gesicki, so he'll see more time on running plays while Gesicki runs more pass routes. Henry is now a flier in drafts.
Jeff Wilson Jr., RB, Miami Dolphins: The Dolphins backfield looks to remain the same as it was last season, as the team re-signed Wilson, Raheem Mostert and Myles Gaskin. A committee will no doubt develop, making the top two backs in the rotation (Wilson and Mostert) tough to trust as more than matchup-based options.
Michael Gallup, WR, Dallas Cowboys: Fantasy managers including myself were hoping Gallup would pop last season after the Cowboys traded Amari Cooper. It didn't happen. In fact, Gallup was waiver wire fodder for most of the season. Now that the team has added Brandin Cooks in a trade from the Texans, Gallup won't have a lot of draft appeal.
Chuba Hubbard, RB, Carolina Panthers: Hubbard might have had a chance at a bigger role in the Panthers offense this season, as D'Onta Foreman (Bears) was a free agent. Unfortunately for Hubbard, the team signed a new projected starter in Miles Sanders. That leaves Hubbard as a second option and fantasy handcuff in 2023.
Daniel Bellinger, TE, New York Giants: Bellinger showed flashes of upside last season when he was on the field, but the trade that sent Darren Waller to the Big Apple crushes his fantasy value. Now the No. 2 tight end and buried in terms of projected targets in the Giants offense, Bellinger has little value in most re-drafts.
---
Michael Fabiano is an award-winning fantasy football analyst on Sports Illustrated and a member of the Fantasy Sports Writers Association (FSWA) Hall of Fame. Click here to read all his articles here on SI Fantasy. You can follow Michael on Twitter, Facebook, YouTube, and Instagram for your late breaking fantasy news and the best analysis in the business!