The Concacaf Nations League may not be prestigious or historic. It doesn't capture the imagination, or even much attention. But the region's secondary men's national team tournament is a reminder that there's more to international soccer than the four-week World Cup. That competition, while drowning in prestige and history, doesn't necessarily have to define a given player. It doesn't have to be a coda.
We're more than three months removed from Qatar, and the U.S. already is a bit of a different team. There are obvious and significant changes at the top, where the resignations of U.S. Soccer Federation sporting director Earnie Stewart and men's GM Brian McBride, along with the expiration of coach Gregg Berhalter's contract, has left a leadership void. There's also change in the locker room, where the young core that reached the round of 16 are now seasoned international veterans hitting their primes. Tyler Adams, who was 23 at the time, proved to be a model captain in Qatar, while the evolution in Christian Pulisic's tone and approach has been noticeable.
Then there are the twists in individual on-field fortunes and trajectories. Missing a World Cup, through exclusion or injury—or stumbling once you're there—can be devastating. But it's not a death knell. During Nations League wins at Grenada (7–1 last Friday) and over El Salvador (1–0 on Monday), several men just a few months removed from disappointment successfully reinserted themselves into the U.S. picture.
Ricardo Pepi has said that he was so shocked when Berhalter called to let him know that he wasn't going to Qatar that he hung up on his former coach. Then against Grenada and El Salvador he scored three times in 87 minutes of action, including the only goal in Monday's group-clinching victory over La Selecta in Orlando.
Gio Reyna's issues during the World Cup, and the scandal that erupted, are well known. But he has some say in how quickly they fade from the headlines. Despite his missteps in November and the ensuing embarrassment, Reyna had the humility to return, train hard and earn a couple of starts in a central attacking role that represented a departure from Berhalter's customary tactics. In defense, center back Miles Robinson missed the World Cup while recovering from an Achilles injury. He was imperious against El Salvador.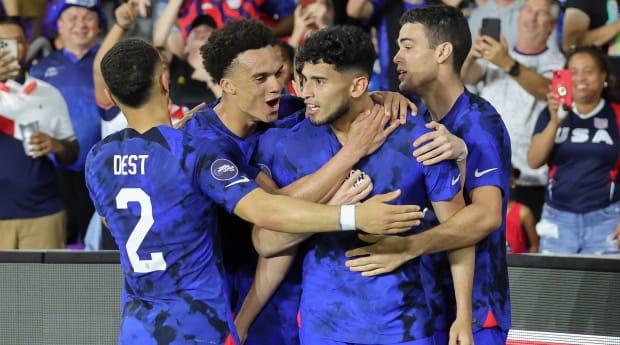 Throw in the commitment from Club América winger Alex Zendejas, the emergence of winger Taylor Booth and the public and promising flirtation with Arsenal/Stade de Reims striker Folarin Balogun, who spent time recently in Orlando after leaving England U-21 camp, and there already are signs of the sort of churn at the top end of the U.S. roster that can only make the team better.
"As great as the World Cup was and how good we all felt about it and how good we felt we did, it kind of went away now," left back Antonee Robinson said during camp. "We don't dwell on the fact that we've been to a World Cup, and it's kind of the end of the journey. It was the start for a lot of us. Now, it's looking forward to trying to retain trophies."
This month's wins put the U.S. in position to do exactly that. The Americans won the inaugural Nations League title and then the Gold Cup in 2021 with two almost completely different squads. Interim manager Anthony Hudson, who likely will be in charge through the summer, now has even more depth to work with. At 3-0-1, the U.S. clinched the top spot in its Nations League group and qualified for the tournament semifinals June 15 in Las Vegas. The four survivors will be seeded according to their group-stage record, meaning there's a good chance the U.S. could face rival Mexico (2-0-2) in the final four. The bracket will be filled out by either Canada or Honduras and either Panama or Costa Rica, which all play Tuesday night. The Gold Cup then kicks off June 24.
By then, Pepi will almost certainly be looking for a new club. He told reporters in Orlando that the past few months have been a "roller coaster," and that's probably an understatement. The highs of his World Cup qualifying goals in fall 2021 and the subsequent record-breaking transfer to Augsburg faded as he began struggling for both club and country. After failing to net a single goal for Augsburg, Pepi was loaned to Dutch side Groningen for the '22–23 season. When he was cut from the World Cup team, he hadn't scored for the U.S. in 10 consecutive appearances.
"I understand the disappointment that he had missing out on the World Cup. I can't imagine what that must have felt like for him, for a young player to go through that," said Hudson, who was a member of Berhalter's staff. "I would say this for a lot of the young players going over there: It's not easy. I think slowly now, he's really finding form, finding confidence, and he's been doing well."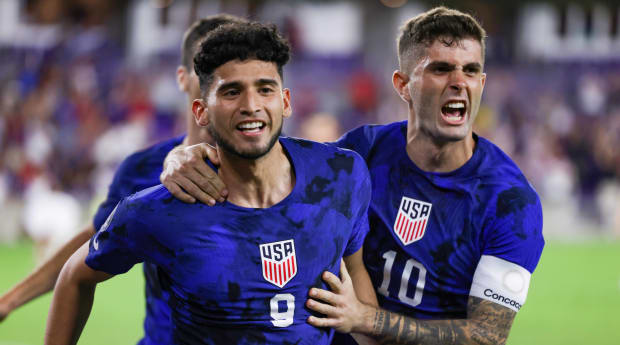 Groningen has had a rough season and is six points from safety in the Eredivisie. But Pepi has, as Hudson said, found his form and confidence. The 20-year-old has 10 goals for Groningen, including nine of the 25 it has tallied in league play. Pepi then struck twice against lowly Grenada last week before conjuring a breathtaking game-winner against a rugged and compact Salvadoran side Monday. Just a couple of minutes after entering for Daryl Dike, Pepi raced onto a perfect through ball from Weston McKennie, held off a stiff challenge from El Salvador's Robert Domínguez—all while maintaining possession and balance—before chipping the goalkeeper.
"I'm happy. I saw the opportunity to make a run in behind the back line, and in front of goal you've got to be a killer. So I was there and I finished the play," he said afterward.
He could've had a couple of more goals, which Hudson lamented in his postgame press conference. But three is a decent return from two games, and the fact that Pepi was active, incisive and sniffing out scoring chances—converted or not—is an excellent sign. U.S. No. 9s struggled with most of that in Qatar.
"His [club] team's unfortunately not in a good place right now. But one thing that we noticed in his games is that this guy just doesn't stop working, doesn't stop running behind the line. He shows an incredible attitude," Hudson said Monday night. "He's had his adversity while he's been over there. But when you watch him play over there, his attitude is first class. We know Rico really, really well. We sort of welcomed him with open arms, and he's done a really, really good job."
Pepi told reporters: "I think I made a big statement tonight."
Reyna made his statement throughout camp. It was inevitable there would be a bit of extra attention paid to his attitude and habits in training and around his teammates, and he received good early reviews.
"From what I've seen, he looks great," goalie Matt Turner said last week. "It seems like everything's behind him. So as we go on, we'll look to hold him to that standard. But he's been a joy to be around."
Reyna hadn't started consecutive internationals since the Nations League semifinal and final in June 2021. He played second fiddle to Pulisic during the onslaught against Grenada, but then was able to create a bit more against El Salvador as the centerpiece of a 4-2-3-1. Berhalter's typical 4-3-3 probably wasn't the ideal setup for Reyna, who wasn't going to displace either Pulisic or Tim Weah on the wings (especially when coming off an injury) and didn't neatly fit the profile for the box-to-box role assigned to McKennie and Yunus Musah. But his skill in finding seams in tight spaces and his obvious quality on the ball was apparent in moments Monday. He was involved in a couple of dangerous moves, nearly scored from long range and then hit the left post early in the second half.
"He showed flashes of being our biggest attacking threat," Hudson said. "These Concacaf games, when you're playing in the opposition's half and there's not a lot of space between the back line and the midfield line, it can make it difficult. But we believe in him. Clearly he has talent, and you see tonight some of the things he does. He probably needs a few more games under his belt.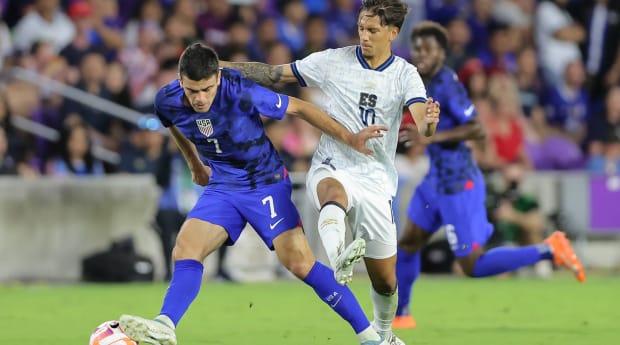 "We're pleased with what he's done," the coach continued. "We're very, very pleased with how he's been this week in training, and I think we're all just in a position where we just want to keep looking forward."
That's something Miles Robinson can finally do as well. The Atlanta United defender dominated the 2021 Gold Cup and then was almost ever-present in qualifying before suffering that devastating injury last May. The rhythm of his recovery, and his obvious value to the team, led to Robinson being the only MLS player included in this month's U.S. squad.
He wasn't needed in Grenada. But against a Salvadoran team that could clog U.S. passing lanes and create some danger on the break, Robinson was essentially impenetrable. His recovery speed and ability to quickly close down attackers was also on display. Center back Tim Ream told Fox that Robinson appeared to be "shot out of a rocket" on one defensive play in the second half.
"You saw moments of the old Miles where he's just so dominant," Hudson said. "He reads plays well and he steps in at the right time. He just very, very quietly goes about being dominant in his role."
The U.S. next plays Mexico in an April 19 friendly that will be contested by MLS and Liga MX players (it falls outside a FIFA window). Hudson will then have to figure out his rosters for the Nations League and Gold Cup. There's some uncertainty there—and not just because of Balogun—with the diverging importance of the Concacaf tournaments being weighed against player fitness and availability (Adams likely is out after undergoing hamstring surgery, it was reported Tuesday). What is certain, however, is that the pool already looks a bit differently than it did in November.