When it comes to job interviews, Jerome Tang used to be a binder guy.
While he coached at Baylor, the now Kansas State used it to present his philosophies and bio information inside them, a pretty common tool for coaches. On the cover was an acronym: TAP, which stood for being "tough, appreciative and passionate." If his teams could embody those things, he would tell athletic directors, then they would make their opponents tap out.
But after striking out, he opted to go binderless in one interview. That didn't work out, either.
"In this whole interview, this one particular person on the committee kept wanting me to use the word tough," Tang says. "'We want tough guys,' and I just never said it. I don't know what was in me that didn't say it. I didn't have my binder and I didn't get the job. It's a blessing that I didn't get the job because maybe, if I used the word 'tough' because it was on my binder, I would have never experienced all this stuff I've experienced at Baylor after that. I know that God in his infinite wisdom protected me so that I could have this opportunity and still experience all the things I needed to to be ready for this."
Those closed doors led him to where he is now—with the Big 12 Coach of the Year leading his team to at least the tournament's second weekend, when they take on Michigan State on Thursday in the Sweet 16.
Tang wasn't much of a data guy until about 10 years ago when he met Ryan Resch, who was a young manager for the Baylor basketball team then and now VP of Basketball Strategy and Evaluation for the Phoenix Suns. Tang gave Resch busywork at first, like picking polos for the coaching staff, but it wasn't long before Resch was using his own interest in analytics to pitch ideas for the coaching staff like optimal lineup combinations. They butted heads in the ways basketball purists and wonks often do. Eventually they learned how to blend art and science.
"I taught him basketball, and he taught me numbers and we taught each other how to collaborate," Tang says. "Ryan's been invaluable in helping me put my staff together and using the tools to help you understand and then ask the right questions."
But one of the key tools Resch was using would end up becoming Tang's binder replacement, and a way he would pitch himself for the Kansas State job. As Tang tells it, Baylor's previous data provider raised its prices, and in an effort to find an alternative, the staff turned to Just Play Sports Solutions, which Resch, at that point was the Bears' director of basketball operations, basically purchased on the spot for the program.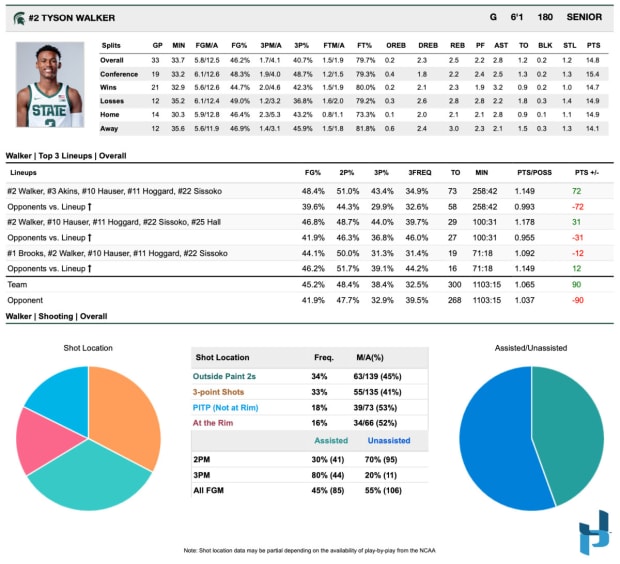 The platform is powerful with the ability to build playbooks, self-scout, scout opponents, help deliver insight on potential recruits or portal targets with integrations with synergy sports, Hudl Sportscode and video integrations—for instance, to match a player diagram to film clips complete with moving X's-and-O's diagrams. There are near-infinite ways to generate reports on basically anything a coach can ask for, like how a team performs in the first 10 seconds of the shot clock after a made free throw. Anything to help you win an extra possession or two in a tight game.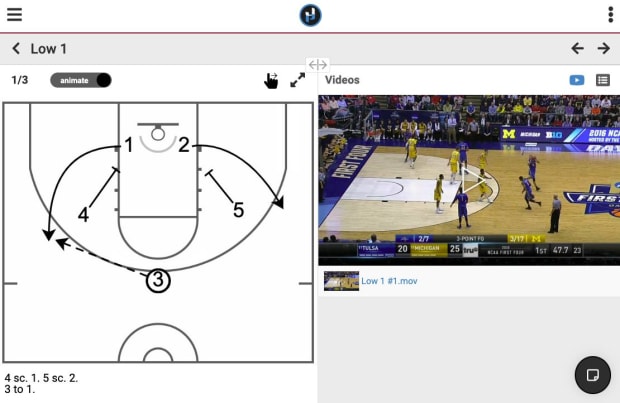 Just Play works with approximately 250 Division I and professional hoops teams in addition to 30 football teams. They started working with football teams at first in 2017, cofounded by Austin Barone, a former kicker at Kansas, and Andy Wachter, who played basketball at Wichita State. During the COVID-19 lockdown in '20, one of Tang's fellow assistants at Baylor, Alvin Brooks, started a series of Zooms in which coaches got together to talk about everything from mental health to X's and O's. Brooks leaned on Just Play to set up the scheme portions of the discussions, which Tang also participated in. Through repeated interactions, relationships grew.
"In this business, it's super relationship-driven, and we really care about our coaches, and we care to build those relationships that maybe go above and beyond the normal call of business because we think that we can impact and affect people's lives in a positive way," Barone says.
While Just Play typically works with teams, they've occasionally helped coaches organize interview materials in the past, like Jamahl Mosley, current head coach of the Magic. Orlando was impressed with the way the portfolio was presented, and when it makes sense, Just Play staffers will work with coaches to help them put a presentation together. One member of its team heard Tang's name mentioned for jobs during the 2022 coaching cycle, and reached out to see whether they could help.
The man who did end up hiring Tang, Kansas State AD Gene Taylor, says he couldn't have expected this season's success back in the summer, when the team had only two players on the roster. But they're here in part because Tang ditched the binder when he interviewed with Taylor, opting to present digitally. Tang met with Just Play staffers leading up to his interview. Shortly beforehand, they sent materials to Kansas State's administrators to familiarize themselves with what they would see at Tang's house in Waco to formally interview him after meeting at the 2022 Big 12 conference tournament in Kansas City.
In a demo coach portfolio viewed by Sports Illustrated, there's typically a personal note to the hiring committee signed by the coach, followed by slides on the coach's philosophies paired with videos from practices or games to not just tell, but show. There also are testimonials from other players and coaches. Tang presented a version of this to Taylor and his fellow K-State administrators.
"It provides a way to convey who the individual is in all aspects in a way that the other side can basically dive into on their own time," Barone says. "And it's aggregating all that information to put it into one spot to make it really easy for them to say, O.K., this is what this guy's like in a press conference. This is what this guy's like in practice. This is what this guy looks like on the sidelines. A lot of times, we'll put body language video in here that just talks about somebody coaching somebody up on the sidelines. It's just all the little things that go into helping these front offices or these administrators make a decision on the person that they're potentially trying to hire to run their team."
The presentation platform a coach uses in an interview isn't the sole reason he gets a job; it's just a tool. Taylor made his decision in his mind about an hour into Tang's presentation. They had spoken with six or seven coaches throughout the process, and Tang was already on Taylor's radar after he had seen the way the coach worked with Baylor players when they played Kansas State.
In basketball coaching, there are times you can tell which assistant is in charge of the "scout" meaning, which one is truly in charge of the legwork on a specific opponent. That wasn't the case with Tang, who impressed Taylor each time the Bears faced the Wildcats. On the day of the interview, Tang asked for a break to go to the bathroom, Taylor waited until he was gone and looked at the rest of his hiring committee to make sure everyone was on the same page. They offered Tang the job on the spot.
"My father was a basketball coach years and years ago, but just how he was taking some of how they do things at Baylor and not only defensively I was really impressed, but also offensively," Taylor says. "They almost don't run sets, it's not completely free flowing, but it was just how they approached the game and the toughness and watching Baylor play many times since I've been at K-State, I've always been impressed with the way they've played. He just explained a lot of that to us in terms of the how. And I was like, O.K., that makes a lot of sense. I literally said during the interview I've learned more about basketball in the last hour than I have in my entire life just because he explained it so well."
It's hard to be around Tang for any amount of time and not feel the passion with which he attacks both life and basketball.
He has a deep connection with his players, and the trust they feel for him makes it easier to get his points across. But the relationships he has built with his players also serve as a teaching tool, especially when you have 13 new "dudes" on the team who also need to understand his brand of basketball.
"I don't feel like he's a teacher; he's a master," K-State guard Desi Sills says. "He's a unique type of coach. You don't get a coach that's vibing with you and laughing with you, having fun with you. You can tell we love each other, we have fun with each other and we enjoy each other. We play with freedom. He gives freedom to all the guys on the court and he believes in each and every one of us, and we're gonna keep executing from there."
To teach this generation of athletes, you need to relate to this generation of athletes. Talking to coaches across multiple sports and levels, they agree that the days of coaches saying "jump" and players reflexively asking "how high" are over. They need to feel valued, which promotes buy-in and learning sprouts from there. Beyond the relationship aspect, getting in the weeds with athletes is different now, too. Gen Z is digitally native, which means the whiteboards and projector screens have been at times replaced by the iPads, and Just Play now comes full circle as a teaching tool for Kansas State. It is certainly a different style from when Taylor's dad was winning multiple Arizona state championships.

"You have to have multiple ways of presenting the information to them. Some guys, they can read it and they get it, or they can hear it and they get it," Tang says. "Some guys have to walk through it to get it. All the different learning methods and everyone can be different and as a coach and as a teacher, we have to be able to present all of those styles in order to help and sometimes it takes two of the styles in order for somebody to get it, and we have to be able to combine that. Learning your audience and learning your team is so important in how you deliver your message."
Kansas State players have spent more than 550 hours on the platform since the preseason and more than 400 minutes since the tournament started, according to the company. Sills quipped he's in the app for what feels like 12 hours a day.
"The visual of it, that's where Just Play is so important," Tang says. "We can send them clips, we can send the plays and they can watch it in live action, they can watch the little X's and O's, and then you chart how much they're doing it. You say, hey, everybody else on the team is logging this many hours, and you're only logging this many. There's a reason you don't know the plays."
Tang's ability to get in the room to connect with Kansas State administrators and his work at Baylor for nearly two decades are the reasons he's on the sideline with a chance to lead his team to the school's third Elite Eight since 1988. But so much of how he got here is a blend of new school and old. The relationships he's built with his players and his assistants and staffers and his ability to embrace a new way of doing things opened him up to working with a company that is helping to change the way teams scout and scheme. In the process, each stakeholder is experiencing new success.
It's safe to say Jerome Tang won't return to using a binder anytime soon.