This is an archived article and the information in the article may be outdated. Please look at the time stamp on the story to see when it was last updated.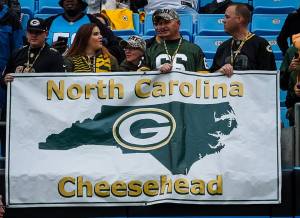 CHARLOTTE, N.C. — In the wake of "Bannergate," other Carolina Panthers players are now lining up to shoulder the blame with quarterback Cam Newton.
This all stems from an incident on Sunday where Newton took a Green Bay Packers fan's banner that read "North Carolina Cheesehead."
The fan was upset with Newton for taking the banner, which he claimed he paid $500 for.
By Monday, "Bannergate" was trending, with people taking sides on social media.
Several Panthers players have tweeted — perhaps jokingly — that they should be blamed for Newton's actions.
https://twitter.com/miketolbert35/status/663734828542595072
Keeping it 💯 it may have been my fault @CameronNewton took that dudes sign I came in the locker room telling everyone how mad I was about it

— Roman Harper (@Harp41) November 9, 2015
https://twitter.com/ryankalil/status/663729537251975170
Sorry bud for telling you to rip that banner down yesterday! Didn't realize people would have a problem! @CameronNewton

— Derek Anderson (@DAnderson314) November 9, 2015
Guess I shouldn't have told @CameronNewton I felt like ripping the banner down when I came out for warm ups! It was ugly tho

— Bené Benwikere (@TUoffTOz) November 9, 2015
Safety Roman Harper might have had the best tweet in response to the situation.
The only sign that matters … pic.twitter.com/nHt6S4yelW

— Roman Harper (@Harp41) November 9, 2015
Panthers team officials have said they reached out to the fan and plan to replace his banner.