This is an archived article and the information in the article may be outdated. Please look at the time stamp on the story to see when it was last updated.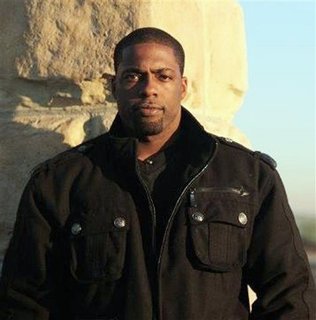 LONG BEACH, Calif. — First he cried. Then Brian Banks — exonerated of a rape conviction that cost him five years in prison — walked outside the courthouse and seized the moment of freedom he had dreamed of for so long.
"This is the first step in reinventing my life," he said after a judge issued his ruling Thursday, promising to pursue the interrupted dream of playing pro football.
It was the plan he left outside a prison door when he pleaded no contest to a childhood friend's false accusation of rape in 2002, a claim she has now recanted.
The hearing that changed Banks' life took only minutes. Los Angeles Deputy District Attorney Brentford Ferreira said his office conceded the case should be dismissed. Superior Court Judge Mark C.
Kim concurred and quickly announced it was over.
One of his first moves was to report to the probation office to have the electronic monitoring ankle bracelet removed — a felon no longer.
At 26, Banks said he is ready to move forward and is trying not to be angry.
"I couldn't ask for more today," he told reporters. "But there is always the question of why did it have to happen in the first place? Why wasn't I heard with the truth of what happened when I was 16?"
Even after he was released from prison, he could not get work because he was a registered sex offender and had a felony record.
Before the charges, Banks was a star middle linebacker at Long Beach Polytechnic High School and was attracting interest from college football powerhouses as the University of Southern California, Ohio State University and the University of Michigan, according to the website Rivals.com, which traces the recruiting of high school football and basketball players.
He verbally agreed to a full scholarship at USC Then, a teenage girl he had known since childhood claimed he had raped her. He was arrested and, on advice of counsel, pleaded no contest to rape and an enhancement of kidnapping in order to avoid a possible life sentence if tried by a jury.
His story is a triumph for the California Innocence Project which took up his case and illustrates the growing trend toward taking a new look at convictions. But Justin Brooks, head of the program at California Western University in San Diego, said this was the first case he had championed for someone already out of prison. He felt it was not too late to right a wrong for Banks and turn his life around.
The key, said Brooks, was the woman's admission she had lied.
And it came out of the blue.
After serving five years and two months in prison, Banks was released, and a strange thing happened. Wanetta Gibson, the woman who claimed he had attacked her on the high school campus when she was 15, contacted him on Facebook and asked to meet with him.
He recalled being stunned. "I thought maybe it wasn't real. How could she be contacting me?"
He said he knew that if he became angry when he met with her it wouldn't help, so he struggled to keep calm.
"I stopped what I was doing and got down on my knees and prayed to God to help me play my cards right," he said.
In two meetings, she said she had lied and offered to help him clear his name, but there was a catch. She did not want to return a $1.5 million payment from a civil suit brought by her mother against the Long Beach schools.
She refused to repeat her new story to prosecutors but they accepted the account which had been secretly videotaped by the defense.
It was uncertain whether Gibson will have to return the money and unlikely she would be prosecuted for making the false accusation so long ago.
Gibson did not attend the hearing and she could not be reached for comment. Prosecutors and defense attorneys said they were unable to find her recently.
At the press conferences that followed the court hearing, Brooks appealed to NFL teams to give Banks a chance. He said Banks has been training six days a week to get in shape for the career he wants.
"He has the speed and the strength. He certainly has the heart," Brooks said. "I hope he gets the attention of people in the sports world."
Gil Brandt, an NFL draft consultant, said Banks would be eligible to sign with any team that might show interest. However, his years away from the game will be hard to overcome.
"History tells us guys who come back after one or two years away when they go into the service find it awfully hard," Brandt said. "And this has been much longer a time."
Brandt compared the challenge to someone who has been out of high school for years trying to get an A in their first class in college.
Banks said he is ready for the challenge.
"It's been a struggle. But I'm unbroken and I'm still here today," the tall, muscular Banks said, tears flowing down his face.
Outside court, Banks donned a sweat shirt that read "Innocent."
___
This article was provided by The Associated Press Wire.  (Copyright 2012 by The Associated Press. All Rights Reserved.)