This is an archived article and the information in the article may be outdated. Please look at the time stamp on the story to see when it was last updated.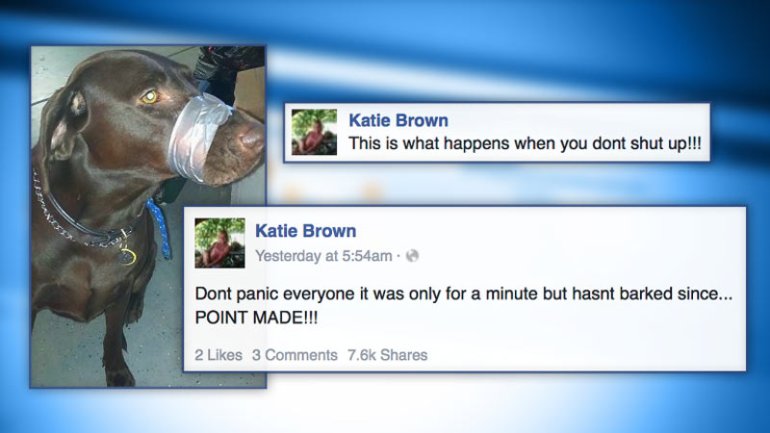 CARY, N.C. — Days after a Facebook photo of a dog with its mouth taped shut sparked outrage online, the woman behind the photo has been arrested in North Carolina.
On Monday, police in Cary issued a press release that they had arrested Katharine F. Lemansky, 45, who had a Facebook page with the name "Katie Brown."
Lemansky posted the photo on Friday with a caption that read, "This is what happens when you dont shut up!!!"
Since then, authorities in two states said they've been flooded with calls about her, according to FOX61.
Her Facebook page suggested she may live in South Daytona, Fla., or Avon, Conn., and police in both cities said they've been flooded with calls.
Cary police said Lemansky had been staying in Cary with the dog.
The photo had been shared nearly 400,000 times as of Saturday night. People from around the world shared the public photo, calling for action to be taken against the dog's owner.
Brown wrote a second message on Facebook saying, "Dont panic everyone it was only for a minute but hasnt barked since… POINT MADE!!!"
Cary Police Captain Randall Rhyne released this statement:
Taping the dog's muzzle shut was a terrible decision on Ms. Lemansky's part, and charging her with animal cruelty under North Carolina law was the right thing to do. At the same time, it's important to also note that our animal control officers who physically examined both Brown and her littermate found the dogs to be very well cared for, which is why we did not and could not remove them from the owner. The dogs are current on their shots, spayed, and microchipped. They are clean and well-nourished and appear to be comfortable in their surroundings. And there were no signs of injury to Brown's muzzle, not even detectable hair loss.