This is an archived article and the information in the article may be outdated. Please look at the time stamp on the story to see when it was last updated.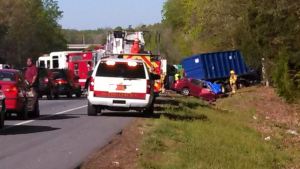 HIGH POINT, N.C. — Investigators believe a driver was posting to Facebook seconds before she crashed and died.
The wreck happened Thursday morning on Business 85 in High Point. Investigators say 32-year-old Courtney Ann Sanford crossed the median and crashed head-on into
a truck.
Later on Thursday, investigators say some of Sanford's friends and family told them about a Facebook post that Sanford made around the same time as the crash. Investigators discovered the Facebook post was made seconds before the deadly crash.

"The Facebook text happened at 8:33 a.m. We got the call on the wreck at 8:34 a.m.," explains Lt. Chris Weisner, with the High Point Police Department.
Investigators say Sanford's Facebook post read: "The happy song makes me HAPPY!"
"In a matter of seconds, a life was over just so she could notify some friends that she was happy," says Weisner.
As investigators were tracing back Sanford's online activity, they discovered she was also posting selfies as she drove down the road.
Sanford was letting her friends know how happy she was at that moment, and sadly that moment was one of her last.
"As sad as it is, it is a grim reminder for everyone… you just have to pay attention while you are in the car," reminds Weisner.
The collision caused the truck to run off the road and hit a tree, police said. Sanford's car also went off the road and caught fire.
John Wallace Thompson, 73, of Garner, who was driving the truck, wasn't injured, police said.
Sanford was wearing a seatbelt, but it was not being used properly, investigators said.