This is an archived article and the information in the article may be outdated. Please look at the time stamp on the story to see when it was last updated.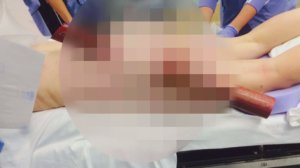 ELIZABETH, Colo. -- A Colorado woman says she was looking down to check a text message before sending it when she was involved in a horrific accident, KUSA reports.
Christina Jahnz hit a guardrail pole that went through her truck, piercing her thigh and buttocks.
Firefighters had to saw off the front and back ends of the pole in order to get Jahnz out of the vehicle.
Jahnz told KUSA, "I was running late for a business meeting, so I did a voice text. I looked down to make sure it was all right. The next thing I knew, I was looking up. There was white powder from the air bags deployed."
Jahnz said doctors told her if the pole had gone just a little bit one way or the other she could have bled out.
"I'm truly a miracle," she said.
She is expected to make a full recovery.