This is an archived article and the information in the article may be outdated. Please look at the time stamp on the story to see when it was last updated.
CHARLOTTE, N.C. — A woman is being credited with saving the life of a complete stranger after his North Carolina home caught fire.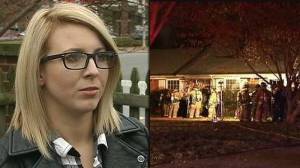 WSOC reported that Laurin Grabowsky had just dropped off friends in a Charlotte neighborhood early Thursday when she saw smoke coming from a home.
Grabowsky said she didn't know the person inside, but when she saw the car in the driveway she knew someone might need help.
"I banged on the door, I banged on the windows, called 911, started honking my horn, trying to get anyone up," Grabowsky said.
Grabowsky worried when no one immediately came outside, but was relieved when Sam Warner emerged from his home, covered in soot and burns.
Neighbors said Warner is in his 70s or 80s and lives alone. He is a retired florist from New York City and helps with flower arrangements at his church.
The two strangers sat together until help arrived. Firefighters said the fire started accidentally but they have not determined a cause.
Warner was hospitalized and was listed in fair condition at the Wake Forest Baptist Burn Center in Winston-Salem.
Grabowsky said she wants to make sure he's okay. She said she plans on bringing him flowers.