This is an archived article and the information in the article may be outdated. Please look at the time stamp on the story to see when it was last updated.
[protected-iframe id="d4f5f4c5172d2306bea41525cf76b04e-28572344-29056055″ info="http://c.brightcove.com/services/viewer/federated_f9?isVid=1″ width="615″ height="392″]
CHARLOTTE, N.C. — A WSOC viewer sent in video Saturday afternoon showing a car driving down Interstate 77 with a man on the outside of the trunk.
Brenda Cruz was in the car with her entire family, and said she was worried, especially with drivers going so fast on the Interstate. Troopers told WSOC, they are trying to figure out what happened.
Brenda Cruz and her 17-year-old son, Samuel Cruz, still can't believe what they saw on in I-77 before exit 7.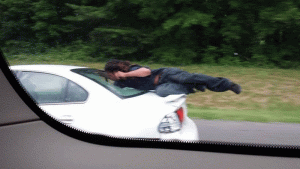 "All of a sudden the kids say, 'There's someone on top of the car on the trunk,' and I'm like what?" Brenda Cruz said. "I said, "'Let me get my phone and started recording.'"
Brenda Cruz shared the video with us and said other drivers on the road were slowing down, too, watching anxiously to see what would happen to the man on the back of the fast-moving sedan.
"It was really weird, I thought it was a dummy at first," Samuel Cruz said.
Authorities got several calls but troopers said by the time they arrived the car was gone and right now, they don't have much to go on to investigate the case.
The Cruz family said they saw the man on the back of the car break the back windshield and climb inside.
"Whenever he lifted his hand to smash the glass open it looked like it was something sharp," Samuel Cruz said.
The family told WSOC a woman was driving the car with a child in a car seat inside.
"I'm really worried because I just hope she's OK you know, with her kid," Samuel Cruz said.
Authorities think the driver and person on the back of the car know each other, but they can't be sure until they track down who they are.
Troopers told WSOC it is too early in the investigation to know what, if any charges the people involved could face but they said the driver is ultimately responsible.
Source: WSOC-TV