This is an archived article and the information in the article may be outdated. Please look at the time stamp on the story to see when it was last updated.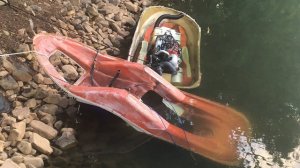 MOORESVILLE, N.C. — Iredell County authorities said a man was injured after a personal watercraft exploded on Lake Norman Tuesday evening, WSOC reported.
The incident happened just before 5:30 p.m.
The 59-year-old man was taken to the hospital but no update on his condition has been provided.
"He was blown into the air," a neighbor, who did not want to be identified, told WSOC.
That neighbor jumped into the lake to save the man and, with the help of nearby landscape workers, managed to rescue him.
"Just sprinted out here, hopped the fence and jumped right in the water," the neighbor said.
Officials are investigating ventilation issues on the watercraft.