This is an archived article and the information in the article may be outdated. Please look at the time stamp on the story to see when it was last updated.
WINSTON-SALEM, N.C. --  A woman was arrested and charged after her 3-year-old twins were found locked in a room and covered with feces last week in Winston-Salem.
Police responded to an apartment on Highland Avenue on March 29 in reference to gunshots.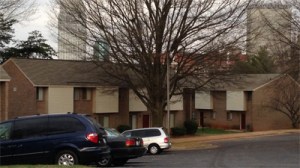 When they arrived, they found the door open. Upon entering, officers noticed that the doorknob of one of the upstairs bedrooms was tied to the banister of the staircase with a shoe lace.
They found 3-year-old twins alone in the room and covered with feces and urine.
Due to the condition of the room and the dehydration of the toddlers, EMS determined the children had been locked in the room for a couple of days.
No one else was found in the apartment.
Police later arrested the twins' mother Betrice Monique Tribble, 22, and charged her with two counts of misdemeanor child abuse and resist/delay/obstructing arrest.
Her bond was set at $6,000 and her court date is May 15.
Investigators say they were only able to charge Tribble with a misdemeanor because NC law only allows a felony charge when a child is physically abused.
"When you look at the faces of some of these children that we see day in and day out -- these children are desperate," says Jim O'Neill, Forsyth County District Attorney.
Some investigators expressed frustration at Tribble only being charged with a misdemeanor. Under N.C. law, because the children were not physically abused, the crime was a misdemeanor.
O'Neill says if people want tougher charges they need to contact lawmakers in Raleigh.
"Write your legislator. Ask him or her to tighten up these laws, toughen up the punishments for people who would abuse our most precious commodity and our most innocent victims."
"People who abuse children are very sick," said Rep. Evelyn Terry, who agrees tougher laws are needed but believes society has to go one step farther in getting to the root of the problem. "Open the doors for a crisis center, for a person who is so sick that they just given up and locked kids up ... whether you are a drug addict, alcoholic or [dealing with mental issues] a person in their right mind doesn't do this kind of thing."
The Winston-Salem Police Department requests that anyone with information regarding this crime contact Crime stoppers at 727-2800.
W-S police: 3-year-old twins found alone in this apt. building (left), covered in their own waste: mother charged. pic.twitter.com/WaYd3qvXbT

— Michael Spears (@MichaelKIRO7) April 3, 2014