This is an archived article and the information in the article may be outdated. Please look at the time stamp on the story to see when it was last updated.
WINSTON-SALEM, N.C. — Officials said a Winston-Salem police officer shot and killed a man accused of stealing a car after the two got into a fight.
Authorities said Corporal D.W. Walsh fatally shot Montez Dewayne Hambric, 26, of Durham, on Sunday in Winston-Salem.
Police said Hambric crashed a stolen car at the intersection of Martin Luther King Jr. Boulevard and Carl Russell Avenue around 8 a.m. Sunday.
The suspect then allegedly took off on foot. Police said an officer found the suspect and tried to question him, but he ran off, headed toward downtown.
Police said Walsh, of the Downtown Bike Patrol Unit, eventually encountered the suspect in a small wooded area near the 500 block of W. 7th Street.
Walsh tried taking the suspect into custody, but the suspect physically assaulted the officer, according to police.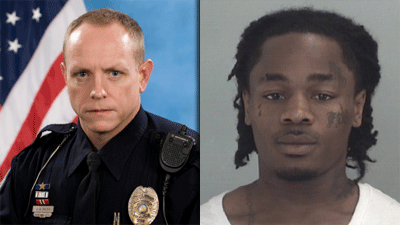 Walsh fired a single round from his service weapon and the suspect was rushed to Wake Forest Baptist Medical Center where he later died, police said.
Police said the suspect's vehicle was stolen out of Durham. The North Carolina Department of Corrections indicated that Hambric is currently on parole for a 2009 robbery conviction in Kentucky.
Authorities described Corporal Walsh as a 17-year-veteran with the Winston-Salem Police Department who has served in the Downtown Bike Patrol Division for about two years.
Walsh has been placed on administrative duty pending the outcome of the investigation underway by the S.B.I., which is also standard practice.
Anyone with information is asked to call the Winston-Salem Police Department at (336) 773-7700 or CrimeStoppers at (336) 727-2800.