This is an archived article and the information in the article may be outdated. Please look at the time stamp on the story to see when it was last updated.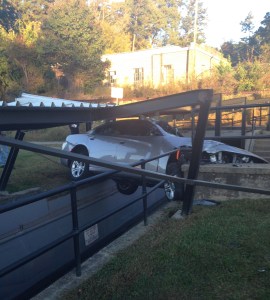 WINSTON-SALEM, N.C. — A 2-year-old child is safe thanks to the heroic actions of a Winston-Salem officer following a Wednesday morning crash.
Shortly after 7 a.m. Wednesday, Winston-Salem police and firefighters responded to a single-vehicle accident in the 1400 block of West Northwest Boulevard.
This portion of the roadway is located between Reynolds High School and Wiley Middle School. There is an access tunnel that runs underneath Northwest Boulevard that connects Reynolds High School to the gymnasium by means of a protected walkway for students.
Police said the vehicle, a 2015 Dodge Charger, was initially traveling eastbound when it crossed the centerline and ran off of the north side of the roadway.
The vehicle then collided with the steel roof that covered the top side of the access tunnel. The force of the collision severely bent the steel roof and the vehicle came to rest on top of the tunnel side-support walls.
Police said the vehicle was partially suspended in the air with the transmission still engaged, making the vehicle's position very unstable.
The driver, 28-year-old Rodney Teon McCoy, was able to escape the vehicle, but a 2-year-old girl was still inside.
Officer Travis McFadden arrived on the scene and assessed the situation. Police said McFadden determined that the vehicle could cause significant injury to the child if it fell down into the tunnel, which was approximately 10 feet down.
McFadden immediately took action, climbing into the vehicle and moving the child to safety, according to police.
The child was not injured but was taken to Wake Forest Baptist Medical Center as a precautionary measure.
The cause of the crash was determined to be an object inside the vehicle that had been wedged against the gas pedal, causing McCoy to lose control.
Very quickly after the accident and before classes had even begun for the day students saw pictures of the wreck posted online and became worried.
"I saw the car -- the whole front end was just pushed in and glass was broken," said Robert Edwards, a student at Reynolds High School. "There were pieces of the roof's tunnel down below after they reopened it."
Edwards said the walkway is used by hundreds of students before, during and after the school day. Other students said a wreck like this and the danger a hanging car would be to them had never crossed their minds.
"I'm going to be more aware of my surroundings just to be on the safe side," said Lee Hickman, a Reynolds senior. "You never know something like that might happen again. Hopefully not but you never know."
McCoy was cited for no operator's license after the accident, police said.
McFadden is the school resource officer for Kingswood High School.