This is an archived article and the information in the article may be outdated. Please look at the time stamp on the story to see when it was last updated.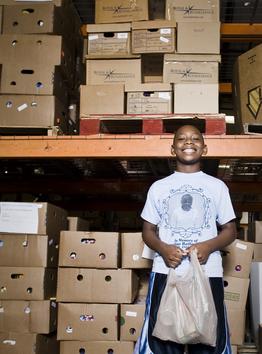 WINSTON-SALEM, N.C. — A Winston-Salem boy spent his tenth birthday collecting more than 1,500 cans of food for the needy.
According to the Winston-Salem Journal, Jamison Bethea — a rising fifth-grader at Downtown Elementary School — spent his most recent July 21 birthday at Hanes Hosiery Recreation Center, where he and his mother collected food for the Second Harvest Food Bank of Northwest North Carolina.
"I wanted to collect 500 and got almost 1,600 cans," Jamison told the paper.
Jamison dedicated the food drive in memory of his grandmother, Jacqueline Ingram, who died in April 2011.
"He started a charity called Granny's Love and he donated the food in her name," Cynthia Bethea said. "He's got a heart to help others."
Jamison said he got the idea for the food drive after seeing homeless people around the Samaritan Inn near Union Baptist Church, where his family attends.
The boy and his mother went to the food bank on Wednesday to find that the food Jamison collected had been picked up earlier in the week.
Source: JournalNow.com