This is an archived article and the information in the article may be outdated. Please look at the time stamp on the story to see when it was last updated.
NAPA, Calif. — Nothing could separate Charles and Sara Rippey. Not war. Not even a deadly California wildfire that engulfed their house.
They spent 89 years together, including their final moments in their Napa home, son Mike Rippey told KPIX. Charles was 100; Sara was 98.
The couple's children marveled at their parents' longevity, both in life and in marriage.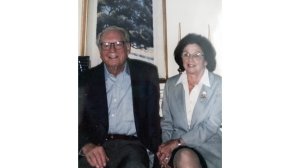 "We often talked among ourselves about how either one of them would deal with life without the other," Mike Rippey told KPIX. "Especially my father. He loved my mother."
The Rippeys were among the 36 people killed by California's raging wildfires, which are still roaring across the state with no end in sight.
And the families of more than 200 are still searching for their missing loved ones.
Here's what we know about some of those who died:
The victims lost
Charles and Sara Rippey
The Rippeys' love affair started early — Charles was in the sixth grade, and Sara was in the fourth, their son Mike said.
After Charles went to fight in World War II, he returned and had five children with his beloved, Mike Rippey told KPIX. The couple recently celebrated their 75th wedding anniversary.
Mike Rippey said he believes his father died trying to save his mother. Charles Rippey's body was found in the charred remains of the hallway just outside where his wife was sleeping.
"From where they found his body, he was trying to get from his room to her room," he said. "He never made it. Even if he had gotten there, he wouldn't have been able to get her out. … And there is no way he would have left."
Christina Hanson
Christina Hanson saw the flames coming from afar. But the 28-year-old, who lived in an apartment next to her father's house in Santa Rosa, used a wheelchair.
Hanson first tried to reach her father, but to no avail, her aunt Cathy Riordan said. She then called her father's ex-wife, saying she saw an inferno and was scared.
Concerned neighbors told the family they called 911 to the property, but it's unclear what happened after those calls, Riordan said.
After a day of panic and uncertainty, a cousin confirmed Hanson had died.
"Sadly, we just found out that Christina did not survive the fire," Brittney Vinculado said Wednesday.
Hanson's father, Michael Hanson, 55, suffered third-degree burns on over half his body and was at Sutter Santa Rosa Regional Hospital before it was evacuated, Riordan said. He was in a medically induced coma.
Sutter tried to transfer him by helicopter to San Francisco for treatment, but smoke prevented the chopper from taking off, Riordan said. Instead, he was transferred by ambulance.
Riordan said she believes her brother was injured trying to help his daughter.
"I know that's how he got burned," she said. "(He) was trying to save her."
Kai Logan Shepherd
Kai Logan Shepherd, 14, was trying to flee the fire early Monday with his mother, father and sister when the flames approached their home in Redwood Valley in Mendocino County, his aunt, Mindi Ramos, said.
The family first tried to get into a car, but it caught fire, so they started to leave on foot. Eventually, Kai was found dead on the driveway; the other three were found burned and were sent to a hospital, Ramos said.
"It appears he was attempting to evacuate the area on foot when he was overtaken by the fire," the Mendocino County Sheriff's Office said.
Carmen Berriz
Carmen Berriz and her husband, Armando stayed, in the pool of their Santa Rosa hilltop rental house for hours as the fire raged around them Sunday night into Monday morning. Once the fires finally passed, Armando Berriz climbed out, but his wife didn't make it.
The couple had been celebrating their birthdays that weekend by the pool, playing games and swapping stories with relatives. When the flames surrounded the house at night, they took a car and tried to leave, but a tree fell, blocking the road.
When they couldn't go any farther, they exited the vehicle and made their way back up the ridge to the house. They jumped into the pool to escape the heat.
"It wasn't until close to dawn that my mom's breath didn't have the stamina to make it any more," their daughter, Monica Ocon, told CNN.
Lynne Anderson Powell
Lynne Powell and her husband, George, decided to flee the fire approaching their rural Santa Rosa-area home early Monday in separate cars.
Lynne, a 72-year-old cancer survivor, took one of their dogs and drove away first in her blue Prius. George had difficulty putting three other dogs into his car, he recalled later, so he drove off about 15 minutes after his wife.
He got away, but she did not. Police found her remains, along with that of her dog, in her burned-out car off the main road about two days later, George Powell told CNN.
Their home was destroyed. The couple was married for 33 years; George called it "the most wonderful marriage I could ever imagine."
"If I had my way, I would have gone with her. I would have died with her," he said.
Authorities have released the names of others who have died, including:
• Carol Collins-Swasey, 76, Santa Rosa
• Michael John Dornbach, 57, Calistoga
• Valerie Lynn Evans, 75, Santa Rosa
• Arthur Tasman Grant, 95, Santa Rosa
• Suiko Grant, 75, Santa Rosa
• Donna Mae Halbur, 80, Santa Rosa
• Leroy Peter Halbur, 80, Santa Rosa
• Veronica Elizabeth McCombs, 67, Santa Rosa
• Roy Howard Bowman, 87, of Redwood Valley
• Irma Elsie Bowman, 88, of Redwood Valley
The loved ones still missing
More than 200 people have been reported missing, authorities said. Spotty cell phone service has severely hampered relatives' ability to connect.
The situation could worsen as firefighters keep battling 17 wildfires that have scorched more than 222,000 acres.
The Red Cross has a website where residents can mark themselves safe and relatives can search for their loved ones. Sonoma County officials said those needing to report a missing person can call 707-565-3856.