This is an archived article and the information in the article may be outdated. Please look at the time stamp on the story to see when it was last updated.
Wikimedia has denied a photographer's request to remove a "monkey selfie" photo because the monkey pressed the shutter button making the photo ineligible for copyright, according to the Telegraph.
Nature photographer David Slater was in Indonesia in 2011 when a crested black macaque stole his camera and took hundreds of photos, including the famous selfie that was featured in publications across the world.
Many of the photos were blurry shots of the jungle floor, but among the throwaways were the selfie that gave Slater worldwide attention.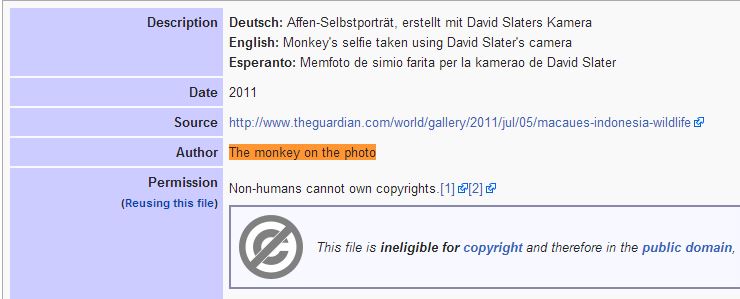 Slater now faces a legal battle with Wikimedia after the images were added to the collection of royalty-free images. Wikimedia Commons is a collection of over 22 million images and videos that are in the public domain.
Wikimedia's position is that because the monkey took the photo, he "owns" the photo. However, non-humans cannot own copyrights — which is why Wikimedia placed the photo in the public domain.
Slater told the Telegraph the decision to add the photo to the public domain library has "jeopardized his income." However, Wikimedia lists the author as "the monkey on the photo."
Wikimedia includes this caption under the photo:
"Taken by a macaque in Sulawesi, with David Slater's camera. As the work was not created by a human author, it is not eligible for a copyright claim in the US. Non-humans cannot own copyrights. This file is ineligible for copyright and therefore in the public domain, because it consists entirely of information that is common property and contains no original authorship."
According to the Telegraph, Slater is now preparing to take the issue to court.
You can view the comments regarding the deletion request on Wikimedia's website.
Read more: Telegraph
"If the monkey took it, it owns copyright, not me, that's their basic argument" http://t.co/UWTO7qjREj pic.twitter.com/0sH5BJRLPc

— The Telegraph (@Telegraph) August 6, 2014