This is an archived article and the information in the article may be outdated. Please look at the time stamp on the story to see when it was last updated.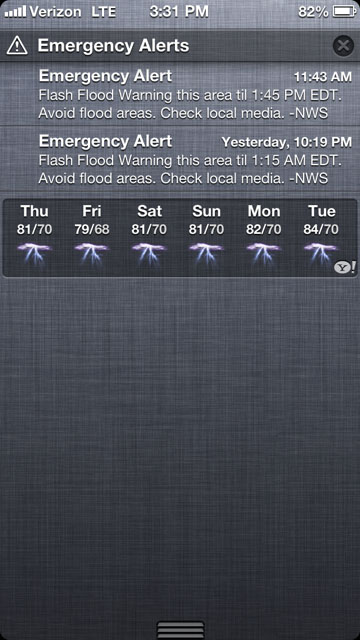 Did you receive an extremely loud alert last night or this afternoon on your smartphone? You're not alone.
Wireless Emergency Alerts, or WEA, is a public safety system that allows cell phone users who own certain wireless phone models and other enabled mobile devices to receive geographically-targeted, text-like messages alerting them of imminent threats to safety in their area.
The alerts include government emergencies, weather emergencies and Amber Alerts.
The messages are turned on by default and were implemented for most users that have newer smartphones or iPhones (iOS 6). In June, AT&T added WEA messages for iPhone users (Click to view a list of AT&T WEA compatible devices).
Users are not charged for data used to deliver the messages and the alerts do not count against your messaging plan.
According to the FCC, there are three classes of text-based alerts: Presidential alerts, Imminent Threat (severe weather), and AMBER Alerts. Users can disable all the classes of alerts except for the Presidential alerts.
If you want to active or deactivate the messages on your iPhone, you can access the menu by going to Settings > Notifications > and scrolling to Government Alerts at the bottom. However, you cannot change the notification sound.
The WEA technology ensures that emergency alerts will not get stuck in highly congested areas, which can happen with standard mobile voice and texting services.
If you feel left out and you didn't receive the WEA message, check with your carrier to see if your phone is capable of receiving the message. Also, check and make sure you have the latest operating system (Android, iOS, etc.) on your phone.
For more information about WEA capable phones, visit FCC.gov.
How does WEA work?
WEA enables government officials to target emergency alerts to specific geographic areas through cell towers. The cell towers broadcast the emergency alerts for reception by WEA-enabled mobile devices.
Wireless companies volunteer to participate in WEA, which is the result of a unique public/private partnership between the FCC, FEMA and the wireless industry to enhance public safety.
Pre-authorized national, state or local government may send emergency alerts regarding public safety emergencies, such as evacuation orders or shelter in place orders due to severe weather, a terrorist threat or chemical spill, to WEA.
Alerts from authenticated public safety officials are sent through FEMA's IPAWS to participating wireless carriers.
Participating wireless carriers push the alerts from cell towers to mobile devices in the affected area. The alerts appear like text messages on mobile devices.
Who will receive the alerts?
Alerts are broadcast only from cell towers in the zone of an emergency. The alerts are geographically targeted to cell towers in the location of the emergency. Phones that are using the cell towers in the alert zone will receive the WEA. This means that if an alert is sent to an area in New York, all WEA-capable phones in the alert area can receive the WEA, even if they are phones that are roaming or visiting from another state. In other words, a customer visiting from Chicago would receive alerts in New York if they have a WEA-enabled mobile device and their phone is using a cell tower in the alert zone.