This is an archived article and the information in the article may be outdated. Please look at the time stamp on the story to see when it was last updated.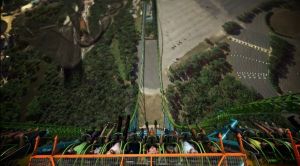 Six Flags Great Adventure in Jackson, New Jersey recently completed the highly anticipated "Zumanjaro: Drop of Doom" attraction, the world's tallest drop ride.
The park recently finished the 415 foot attraction. The ride will drop passengers at 90 mph.
"First, your eight-person gondola will blast to the top of the 415-foot structure in approximately 30 seconds. You'll pause for a moment to check out the aerial view of the park and anticipate the rapid heart-racing plummet coming up next. Everything soon becomes a blur as gravity pulls your gondola downwards at 90 miles per hour, reaching ground level again in less than 10 seconds — before you even have time to scream."
The gondolas carry riders straight up the face of "Kingda Ka," a record-breaking roller coaster that reaches speeds of 128 miles per hour.
The park said the attraction will open in 2014, however no specific date was provided. Last Monday, the ride received its final piece of track.
The park opens to guests on April 12.