This is an archived article and the information in the article may be outdated. Please look at the time stamp on the story to see when it was last updated.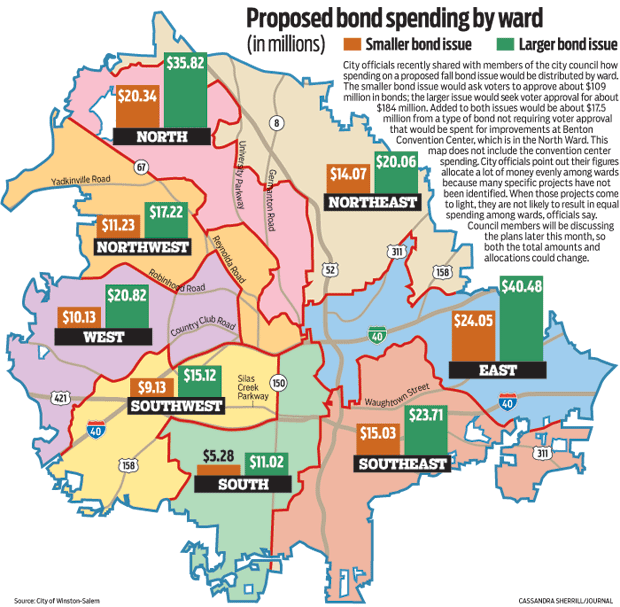 WINSTON-SALEM, N.C. — Eastern and northern Winston-Salem could receive the largest portions of money from a proposed bond referendum in November, although city leaders say a lot of spending decisions remain.
The ward-by-ward figures released last week by city administrators confirm what they said last month when the council discussed a bond issue in the range of $125 million to $200 million: That east of U.S. 52 — a term used to refer to what is considered the poorer parts of town — would realize the greatest amount of spending from the bond.
The numbers have council members talking about the need to convince all voters that the package is a good one, while at the same time keeping a close eye on the voters in their own wards.
Council Member Derwin Montgomery, who represents the East Ward, said he agrees with a comment he read on the Winston-Salem Journal's website in connection with a previous story about the bonds: That the east side of town deserves more because of past spending gaps.
"One of the readers said that in many past years, dollars have been invested in the west side of town, and that now it is time to reach into areas that need that investment," Montgomery said. "When you look at other cities, they have made the largest investments in some of the most depressed areas of their cities, and those areas have seen the biggest gains."
A lot of unresolved details makes it difficult to figure out which ward really comes out the winner under the proposed bond issue. Since spending for such projects as paving streets and extending sidewalks is largely unallocated so far, city officials evenly divided the money among wards in their presentation of ward-by-ward spending.
And while one city tally puts the East Ward in front, the North Ward rises to the top when a proposed $17.5 million upgrade to the Benton Convention Center is included. The convention center is listed separately because, unlike the other projects, it would be paid for with a type of bond that doesn't require voter approval.
Assistant City Manager Ben Rowe added up the bond projects for each ward using two measures: Projects under a smaller bond issue of about $109 million in publicly approved bonds, and a larger issue that totals about $184 million.
Not counting the convention center, the East Ward leads the way in both cases, and the North Ward, represented by Council Member D.D. Adams, is next.
Council Member Vivian Burke, who represents the Northeast Ward, said she's "not completely satisfied" with the projects in her ward, although she agrees that the Winston Lake Park renovations in the East Ward could be considered as helping her ward, too.
What Burke said she hears from citizens is criticism of the amount of money spent downtown. Although downtown theoretically helps the city as a whole, Burke said that many people in her ward don't go there.
Burke said she thinks the case can be made, though, that it is right for the eastern side of Winston-Salem to get more than the west. For one thing, she said, East Winston has more problems in general with such things as absentee landlords and trash.
But Burke said that even well-heeled businessmen living on the west side see the value of improvements to the parts of the city hurting the most.
"For business people, if one part of the city does not look good, it will not attract people to come," Burke said. "They have to pass through certain areas, and they want it to look appealing and attractive so folks will want to come here and live."
Council Member Dan Besse of the Southwest Ward said too much attention is being focused on how much is spent in each ward because many projects will benefit more than just that ward.
"The Public Safety Center is a classic example," Besse said, referring to the police headquarters downtown but which is in the boundaries of the North Ward. Other examples include the police training center in the Northeast Ward, Besse said, and Salem Lake, which is in that Southeast Ward but is used by people from all over the city.
"It is fair to look at where you spend money on recovering commercial areas, and where you expect to see transportation improvements located," Besse said. "Road expansions or sidewalks are a communitywide benefit, but of special benefit to the neighborhoods that are closest. Those are the areas that we deliberately tried to balance spending on."
Rowe said that although some spending categories are spread out evenly among wards in his charts, they may actually see a more limited — and targeted — application when the money is spent.
For instance, Rowe divided up money for revitalizing commercial and residential areas evenly among wards, but acknowledged that those projects are more likely to happen in the eastern side of the city.
"For this stage of the process we showed it evenly divided," Rowe said. "Any specific projects will have to be ultimately approved by the council."
Another category, economic development, splits money evenly across wards, although the industrial sites they would help build are in the north and east. Still, it's been pointed out by council members that a factory will draw people from all over town, not just the ward in which it sits.
Adams said it's not really accurate to depict her North Ward as one of the main beneficiaries, given that it includes such big-ticket items as Public Safety Center renovations, money for a new police district station and the Benton Convention Center renovation.
So Adams' focus is on smaller needs in the ward, such as more improvements to the Brown and Douglas Neighborhood Center than are now planned.
Adams voiced a concern that Rowe said he's heard from several council members: that money should be shifted from street widening to street repaving.
"We have four communities in desperate need — North, Southeast, East and Northwest wards," Adams said. "We are moving in the right direction to understand that. If we were to take a bus ride and take council members and other officials around, they would see that the need is in those four."
Council Member Molly Leight said she is not upset that her South Ward comes up last in spending.
Still, she pointed out needs that she believes go beyond what's in the package now: more money for South Ward recreation, she said, and more money for improvements in Old Salem.
"I'm not upset by the fact that there is more scheduled for the other areas," she said. "I look at it as a whole. I guess there are some who think it ought to be evenly split, but I think the money will be where the needs are."
Council Member Robert Clark of the West Ward said he thinks it overstates his ward's benefits to include urban renewal money that his ward isn't likely to receive. But Clark said he is satisfied with the overall shape of the package.
"My No. 1 one goals going in were parks and roads," Clark said. "Parks are a high priority and are getting a lot of money in the bond referendum. You don't have to drive too many roads in town to know that we need to spend more money on them."
Clark said he has no problem with spending money to widen roads, but he said he thinks the city may be planning to widen too many roads that are actually on the state system.
Council Member Jeff MacIntosh, who represents the Northwest Ward, said that a lot of the numbers are preliminary because they are "100 percent divided by eight."
"I think we will end up spending whatever we raise in a bond issue, but I think we will spend it well," MacIntosh said. "I would hope that not everybody in Winston-Salem would look at this and say, 'What is being done in my front yard?' There are specific needs in specific wards."
The Northwest Ward includes Hanes Park, where MacIntosh said he believes that more should be done than is planned. So far, the $500,000 designated for the park includes a bathroom upgrade, track repaving and developing a master plan.
"That park gets a lot of use," he said. "I hope we do a good job of spending the money where it is needed the most."
Council Member James Taylor said he is "very excited" about the plans for his Southeast Ward, especially the money for economic development that he believes will help all wards with job creation.
"Even though we are behind a few wards in money allocation, we will see the best bang for our buck," Taylor said. Among the positives in the Southeast Ward, he said, is spending planned to renovate an old quarry for recreation and proposed improvements to Salem Lake.
People who see inequality in the division of bond spending should understand that some parts of town have previously missed out, he said.
"There are other parts of the city that have been well-maintained and taken care of," Taylor said. "Now we are going back and making sure that the economic-development opportunity is equal through the city. If it was equal between wards, the ones who are in the greatest need would not be getting their fair share."