This is an archived article and the information in the article may be outdated. Please look at the time stamp on the story to see when it was last updated.
PINEHURST, N.C. — Sierra Sims looked around the spacious practice putting green at Pinehurst No. 2 on Sunday afternoon and felt right at home.
Sims, who will be a sophomore at Wake Forest, was in her element. She was at a golf course practicing — and while the men's U.S. Open rolled on, her focus never wavered.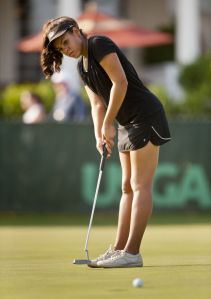 "I'm excited about this opportunity," said Sims, who is one of three players with ties to Wake Forest who will tee it up Thursday.
Sims will join Cheyenne Woods and Laura Diaz — both former All-America golfers for the Deacons — in the 156-player field. Diaz, 39 and who lives in Winston-Salem, said she's thrilled to have other Deacons out there with her.
For Sims, however, it's a big deal to play in her first U.S. Open.
"With me getting out here and starting to practice, the nervousness went away," Sims said. "I'm in my element on the course like this, so it's been good for me to get out here and get going."
On Monday, Sims played a practice round with Diaz and star Michelle Wie. Sims said that knowing Diaz — whose husband, Kevin, is an assistant coach at Wake Forest — helped calm her nerves.
When Sims and her father, Bryan, first arrived at Pinehurst No. 2 on Sunday, she came into the clubhouse area. The first golfer she saw was Rickie Fowler, who had not teed off in his final round.
But Sims was too shy to say anything.
"It was crazy," Sims said. "There was Rickie Fowler right in front of me."
Sims also saw Jordan Spieth, a former Texas high school star. Sims, who is originally from Texas but now lives in Tampa, won a state high school title the same year as Spieth.
"I know him a little bit and I saw him — but he was busy, so I didn't go talk to him," Sims said.
Bryan Sims said he doesn't think that his daughter will be intimidated this week.
"I think Sierra's always been ready to play in this type of event," he said. "Two years ago she lost in a playoff at sectionals to get into the U.S. Open, so I think this year she just happened to punch her ticket."
Sims, who will use a local Pinehurst No. 2 caddie, said when she qualified that one of her goals is to make the cut.
Bryan Sims said he thinks his daughter can do more than that.
"She has the long game, is accurate off the tee, and is accurate with her irons," he said. "Everybody has to contend with the greens, so we'll see what happens there."
'I'm ready for this'
One comfort for Sims, 18, is she will be just one of the many youngsters in the field. There are 22 teenagers and an 11-year old, Lucy Li, who is the youngest qualifier in the 69-year history of the tournament.
"I'm ready for this," Sims said.
Sims was a top player for the Deacons this past season for Coach Dianne Dailey, a member of the National Golf Coaches Association Hall of Fame. It was a year when Sims got stronger and elevated her game.
Mark Seaver, an assistant strength coach at Wake Forest, said he saw the changes in Sims, especially when she started eating breakfast.
"She used to show up for workouts early in the morning without eating, and the workouts didn't go so well," Seaver said. "So when I saw her I would always ask if she had breakfast that day, even if she wasn't working out."
Consistency will help
After Sims qualified for the U.S. Open, Dailey said she wasn't surprised.
"Sierra really was consistent for us this past season," Dailey said last month. "For her to get a chance to play in such a big event is a big deal. She can certainly handle that kind of stage."
Playing for the Deacons this past season was good for her game, Sims said. Now she feels as if that experience can only help her this week.
"I want to be prepared and go out there and perform, and I think you can be nervous if you aren't prepared but I know what to expect," Sims said.
"I know I can go out there and hit the shots I need to hit."