This is an archived article and the information in the article may be outdated. Please look at the time stamp on the story to see when it was last updated.
CHARLOTTE, N.C. — Environmental officials have raised the air quality alert to Code Red in several parts of the region Wednesday morning, including Charlotte and Hickory.
As more than a dozen forest fires continue to blaze throughout western North Carolina, prompting mass evacuations, crews push to contain the flames and limit further damage.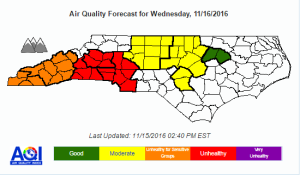 As of 6:50 a.m. Wednesday, Charlotte, Hickory, Polk, Rutherford, McDowell and several other townships, counties and cities are under the alert.
The Piedmont Triad's air quality alert remains moderate. Moderate, or Code Yellow, typically effects unusually sensitive people.
View the latest air quality forecast here.
Crews continue to battle the flames as the Party Rock Fire has burned through 4,480 acres, the Boteler Fire has burned 8,967 acres, the Tellico Fire 13,679, Chestnut Knob 4,600 and Maple Springs 7,705.
Firefighters from all over the state, including the Piedmont Triad, have traveled to western North Carolina to aid in relief efforts.
For a complete list of updates on each fire, click here.