This is an archived article and the information in the article may be outdated. Please look at the time stamp on the story to see when it was last updated.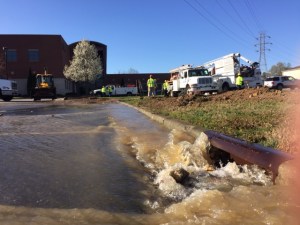 GREENSBORO, N.C. — A water main break on North Church Street in Greensboro is impacting water pressure in the area.
A 16-inch water main broke at the City of Greensboro's Public Safety Training Facility, located at 1510 N. Church St., at about 7 a.m., according to Adam Conn, operations manager with the City of Greensboro's water resources department.
City crews are on-site working to repair the damage. Conn said they plan to have the break fully repaired in about eight hours.
The break is, however, affecting the water pressure at several nearby businesses.
Water customers in the area may see temporary water discoloration. The discoloration is not harmful and can be cleared by running the water for a few minutes.
The cause of the break is not known.