This is an archived article and the information in the article may be outdated. Please look at the time stamp on the story to see when it was last updated.
GREENSBORO, N.C. -- Two suspected burglars are in custody after a watchful neighbor reportedly witnessed them breaking into a nearby apartment.
The vigilant neighbor, who chose to remain anonymous, says he called police after seeing the two suspects kick down his neighbor's door last Thursday.
"That's exactly what we want folks to do in this situation. He didn't intervene or stop the suspects themselves. He called us and we made the apprehension," said Greensboro police officer Jamie Fulton.
Raul Villamil says he watched Greensboro police swarm his brother's apartment complex after the burglary.
"People screaming like, 'He's over there … where did he go?' ... things like that. They were screaming, shouting," said Villamil.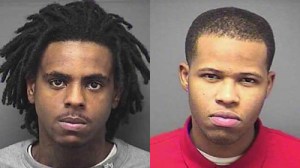 Tequan Staton and Arin Dunn were taken into custody.
Greensboro police say they were trying to steal electronics, which is a trend they've noticed lately.
Since September, there have been at least 40 similar burglaries within one mile of the Cottage Place neighborhood. In each case, burglars broke in during the day and took things like televisions, lap tops, and tablets.
However, people who live in the area say the recent break-ins don't affect their opinion of the neighborhood.
"This is a good neighborhood. People are watching each other's backs. I would have done the same thing if it happened to my neighbor. Hopefully they'll do the same thing for me," said Gian Villanil.
Staton and Dunn are each being held on $50,000 bond.
Greensboro police say there could be more suspects, so they have increased patrols in the area.