This is an archived article and the information in the article may be outdated. Please look at the time stamp on the story to see when it was last updated.
GREENSBORO, N.C. — Body camera video released Monday by city leaders shows a former Greensboro police officer using "disturbing" excessive force. After releasing the video, city council members voted 8-0 in favor of a resolution calling for the permanent suspension of former Greensboro officer Travis Cole's law enforcement certification.
The video shows Cole displaying "wrongful conduct" during an incident on June 17.
When city leaders released the video during a press conference Monday, several people applauded.
The incident began with Cole and another officer responding to a possible breaking and entering call. When they arrived at the house, Dejuan Yourse was sitting on the porch.
Body cameras on both Cole and his partner captured what happened next, now described by police as Cole using excessive force on Yourse, who wasn't injured.
"I wouldn't dare as a chief tell anyone this kinda thing never happens," Greensboro Police Chief Wayne Scott told FOX8 Monday. "We have around 900 employees, over 680 sworn police officers on any given day getting dozens and dozens of calls and interactions. But what they can be assured of is we take this very serious."
Last Tuesday night, Greensboro City Council got the opportunity to view the body camera video and voted to release it to the public.
"Well, it's horrible! And I say this as a white male representative," said Greensboro City Councilman Mike Barber last week.
"I was very concerned and disturbed about what I saw," Westmoreland said.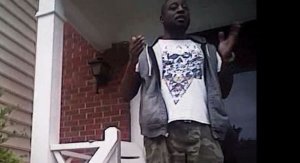 Cole had resigned from the Greensboro Police Department in August in light of the investigation. Because he resigned, charges against him were dropped. But he would still be able to work in law enforcement elsewhere.
During Monday's press conference, Greensboro Mayor Nancy Vaughan apologized to Yourse, who was in attendance, calling the incident "ugly." She read a resolution calling for the permanent suspension of Cole's law enforcement certification.  The resolution passed by council members 8-0.
Numerous people spoke after the resolution, saying the resolution was not enough.
This is not the first time Cole has been in trouble with the department. In August 2014, Devin and Rufus Scales were arrested by Cole for blocking traffic on an empty street, public intoxication and resisting arrest.
Devin recorded his brother being handcuffed without incident, sparking questions about why he was charged. Those charges were eventually dropped and Cole was suspended.
City Council formally files resolution asking that former Officer Cole not be allowed to serve in law enforcement in the future. @myfox8

— Sarah Krueger (@WRALSarah) September 26, 2016
Chief Scott says he agrees with council resolution that Travis Cole should no longer be able to serve in law enforcement anywhere. @myfox8

— Sarah Krueger (@WRALSarah) September 26, 2016
Audience gasping and chattering watching.Yourse yells several times in this portion of the video "I am not resisting!" Cole punches Yourse. pic.twitter.com/i9tGVhfj7H

— Jasmine Spencer (@1JasmineSpencer) September 26, 2016
City attny. says charges against Cole were dropped b/c he was no longer a member of @GSO_Police. Cole resigned after placed on paid leave.

— Alex Rose (@AlexRoseNews) September 26, 2016
Officer Cole grabs for Yourse's phone, they begin to struggle. It gets violent. pic.twitter.com/wySZksuUMk

— Alex Rose (@AlexRoseNews) September 26, 2016
Speaker on the floor saying the only reason we know about this incident w/ Cole is bc a police officer on the inside leaked info. @myfox8 pic.twitter.com/zphDhodcUq

— Sarah Krueger (@WRALSarah) September 26, 2016
Speaker now saying female officer at Yourse incident is just as guilty as Officer Cole. Says she needs to be punished. @myfox8

— Sarah Krueger (@WRALSarah) September 26, 2016
Suggestion of a Citizens Independent Inquiry Commission to bring about transparency in cases like these in @greensborocity.

— Alex Rose (@AlexRoseNews) September 26, 2016
Things getting testy. Mayor Vaughan asks for part of crowd to be removed because they keep shouting out. @myfox8 pic.twitter.com/5ShFXFxcg4

— Sarah Krueger (@WRALSarah) September 26, 2016