This is an archived article and the information in the article may be outdated. Please look at the time stamp on the story to see when it was last updated.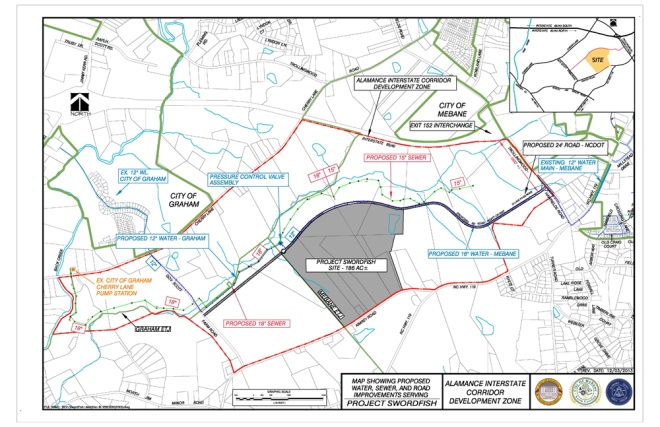 ALAMANCE COUNTY, N.C. — Governor Pat McCrory and North Carolina Commerce Secretary Sharon Decker announced Tuesday that Walmart Stores, Inc. will open a major perishable grocery distribution center in Alamance County, bringing 450 jobs to the area.
Graham and Mebane officials approved incentives on Monday.
The facility will serve an estimated 123 Walmart retail stores across North Carolina and surrounding states. The company intends to create 450 jobs and invest more than $100 million over the next three years in Mebane.
"North Carolina continues to be a top choice for companies looking to establish advanced distribution facilities," said Governor Pat McCrory."We have the skilled workforce Walmart needs to grow and flourish in North Carolina."
Walmart has retail general merchandise and grocery stores throughout the United States and in many countries throughout the world.
"We're committed to promoting economic growth in North Carolina and we know that many of those jobs will come from existing companies like Walmart," said N.C. Commerce Secretary Sharon Decker. "Walmart's decision to locate in Alamance County is wonderful news for the local community and the entire state."
Salaries will vary by job function, but the average annual pay for the new jobs will be $35,374 plus benefits. The Alamance County average annual wage is $34,858.
"Walmart's new distribution center will bring jobs and economic growth to North Carolina and help us maintain the high quality of our produce and other perishable groceries throughout the region," said Bryan Boudreaux, senior vice president for logistics in Walmart's Eastern Division.
"Walmart's decision to locate in Alamance County will greatly expand employment opportunities for this region in North Carolina," said Senator Rick Gunn. "We applaud the State's recent tax reform, which opens pathways for employment opportunities for our citizens and the future growth of our businesses."