This is an archived article and the information in the article may be outdated. Please look at the time stamp on the story to see when it was last updated.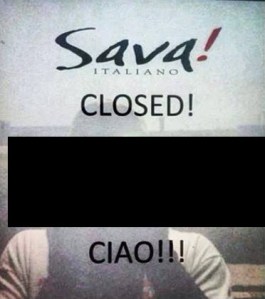 A purported sign posted at a now closed Italian restaurant in Amarillo, Texas has gone viral – but the restaurant claims it's fake.
A photo of the letter was posted on an Amarillo radio station's website on Thursday (click to view the uncensored letter).
KISS FM 96.9 claims a customer went to the restaurant on Thursday and saw the sign posted on the front door.
The radio station posted "we don't know if this letter was posted by management or an employee of the Savi (sic) restaurant, but it seems to be a message directed at Amarillo."
The photo went viral early Friday after it was posted on Facebook and Reddit.
After receiving messages on Facebook about the sign, the restaurant responded by posting: "Don't believe all you hear and see folks!"
In a series of comments, the restaurant said they don't know who is responsible for posting the sign.
"Nobody ever saw it posted that we can find. It appears to have been posted, photographed and taken down. It's not up now and we've been out of the building for 2 weeks. Totally malicious!"