This is an archived article and the information in the article may be outdated. Please look at the time stamp on the story to see when it was last updated.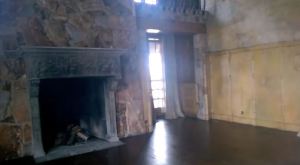 REIDSVILLE, N.C. — A video tour of the abandoned Chinqua Penn Plantation mansion in Reidsville shows a once majestic and historic home now abandoned and overgrown.
Chinqua Penn Plantation is an English manor home mansion that was built by Thomas Jefferson Penn and Margaret Beatrice Shoellkopf Penn in the 1920s.
Calvin Phelps purchased Chinqua Penn for $4.1 million in 2006, but he later declared bankruptcy.
Chinqua Penn Plantation was opened for tours through March 2012.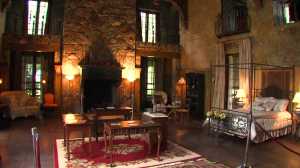 Phelps lost the mansion's art, artifacts and furnishings during a 2012 auction. The items were sold for more than $3 million to pay creditors.
This week, Phelps was sentenced to 40 months in prison and ordered to pay $5.1 million in restitution for his involvement in a multi-state scheme to avoid taxes and fees on tobacco sales.
The mansion went into foreclosure in September 2013 and is currently owned by SunTrust Bank.
Bryson Thomas posted the walkthrough tour of the mansion on YouTube last month. The video has been viewed over 12,000 times.
"I was fortunate enough to bypass the gates and walk the grounds which I had merely planned to do," Bryson Thomas posted on YouTube. "To my surprise, as seen in my footage, the front doors were swayed wide open as I walked up the motor court and into its once grand entrance.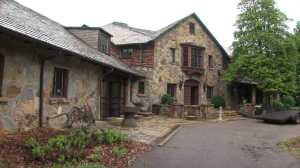 SunTrust Bank told the News & Record the home is back on the market. Rockingham County Sheriff's Officer Kevin Suthard also told the paper the department was "looking into the matter," but it's unlikely that Thomas will be charged. The doors at the home have been closed and secured.
A Save Chinqua Penn Planation Facebook page created on March 17 has amassed over 5,000 likes.
Thomas posted the video on YouTube with this full description:
This is the beloved Chinqua Penn Estate in Reidsville, North Carolina, just minutes from my grandparents house and ancestral upbringing. It was once a great majestic estate of historic significance, architecture and setting as it played host through the centuries of North Carolina nobility and personality. Today, the ornamental walls of the estate reveal a depressing modern reality of bankruptcy and abandonment. The mansion, its history and romance sits abandoned, overgrown, but hopefully not forgotten by the graces of this video. Despite its current state and obstructions, I was fortunate enough to bypass the gates and walk the grounds which I had merely planned to do. To my surprise, as seen in my footage, the front doors were swayed wide open as I walked up the motor court and into its once grand entrance. I don't know if the doors were intentionally left open, and I don't know who would have been authorized or appointed to open them, or even what purpose opening them would have had while the mansion sits under bank seizure, but there was certainly no one in sight for the two or three hours that I spent there at the estate. Either way, it was a great opportunity to snoop around and tour the interiors. Unfortunately, as seen, the mansion has been ravaged by damp and rot. Seeping water and moisture has caused wall prints and paints to crumble and ceilings to flop. The electricity has obviously been shut off for quite some time. No electricity means no running air, no sump pump or dehumidifier for years now. The mansion is filled with slimy sticky patches of mold and mildew on the floors, creeping up the drywall and blanketing the once glorious bathroom fixtures, stair hand railings, and crystal like doorknobs. The bedrooms and bathrooms are completely uninhabitable. The contrast is dramatically illustrated by the opulence it once had, the people it once housed, and the squalor of smelly damp walls and swarms of rot as it sits today. Interestingly to note, the temperature outside was 67 degrees, but I could literally see my breath as I walked through the cold and lonely mansion. It was a truly fascinating experience, being alone in the unknown lodgings, adrenaline pumping, literally getting lost in the servants quarters, not knowing at times which floor of the house I was on, stumbling into what I thought was a closet, but ended up being a spiral stairway entrance to the attic, or in some cases the dark basements which I wouldn't have dared to completely tour without being prepared or having another light besides that of my camera phone. Even in its current state of filth and shabbiness its fascinating and quite quirky graces are still evident. Without a doubt, it's salvageable, but it will be a massive undertaking and will need some real professionals and cash pumped into its restoration. It would make a great country estate or family home or you could even draw upon its past and repurpose it into a unique tourist attraction, wedding venue or winery. My hopes are that private or even public interests will step in and save this treasure before it's too late, and it's definitely nearing that state as far as the interiors are concerned. I imagine I toured about 60% of the interiors of the main house and rear wings and clock tower structures and lodge buildings which consist of over 33,000 square feet. I suppose this will be part one of two videos which I'll post that will consist of about 40% of my tour. Regrettably, parts of my footage were too dark and in some cases overlooked and missed when I decided to patch this first video together and upload it to YouTube so there will be a second video coming soon. Stay tuned for updates, please comment, like and subscribe to my channel and feel free to share your thoughts and memories of the estate; I know it still pains the locals to see such a treasure in this state. Thanks for watching!