This is an archived article and the information in the article may be outdated. Please look at the time stamp on the story to see when it was last updated.
BAHAMAS — A Texas dentist was spear fishing in the Bahamas when a shark attacked him. Watch the attack in the video player above.
Dr. Steve Cutbirth is a restorative dentist from Waco. He was with his son-in-law Will Powers when a bull shark bit him on his face and leg, KWTX reported.
They had been coming to the island of Green Turtle Cay for nearly 30 years.
Cutbirth doesn't blame the shark for what happened because the shark was just trying to get to a fish he had just caught.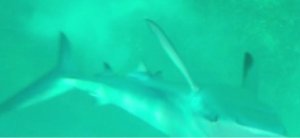 "And just kaboom something hit me in the side of the face," Cutbirth told KWTX "and I could not imagine what it was because I was in the middle of the ocean."
"It ripped my mask off and you can see where it got me right in the nose and then perfect claw marks right on the mask," said Cutbirth.