This is an archived article and the information in the article may be outdated. Please look at the time stamp on the story to see when it was last updated.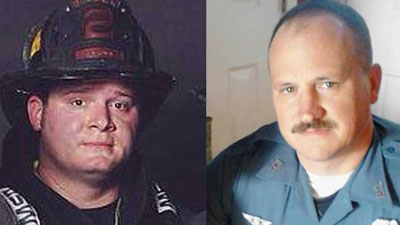 KANSAS CITY  — Cell phone video captured the final moments when a routine arrest turned into a fatal confrontation between an off-duty firefighter celebrating his wedding reception and a Kansas City police officer working security.
The Kansas City Police Department's office released the 180-page case file on Tuesday in response from a Missouri Sunshine Law request from KCTV5. On Feb. 14, a grand jury cleared Officer Don Hubbard in the fatal shooting death of Anthony Bruno.
Ashley Janzen, a nurse who witnessed the fight and shooting, told police, "It is a situation that went wrong."
Bruno had been celebrating his recent nuptials during a reception that lingered into the early morning hours of Dec. 1. Bruno got into an altercation over a fare with a cab driver who had driven him, his bride and a friend from a downtown restaurant to a nearby hotel.
Hubbard, who was working off-duty security at the hotel but in uniform, responded. He chased Bruno and was in the process of putting him in handcuffs when Bruno began to pummel Hubbard, authorities said.
Police say Bruno pinned Hubbard to the ground and repeatedly punched him in the face, leaving Hubbard no choice but to fire his service weapon. The grand jury agreed.
WARNING: This video shows the end of the confrontation, including the moment Hubbard fires his gun.
Because he was working off duty, Hubbard was not assigned a Taser.
Hubbard suffered significant injuries including broken facial bones. Bruno was shot twice in the chest. Bruno's blood-alcohol content was .21, according to his autopsy. You are considered legally intoxicated at .08. Video taken at Anthony's restaurant where the Brunos and friends went after their hotel wedding reception showed Bruno having trouble standing up and stumbling about 1:45 a.m., according to the case file.
Surveillance captured the moment Anthony Bruno ran into off-duty officer, Donald Hubbard, who was working security on the night in question.
"I saw what appeared to be a police officer, a man in uniform struggling with a man in a suit and that's really all I knew at the time," Jason Reinhard told WDAF.
Reinhard pulled out his cell phone to record the altercation. Standing next to him, trauma nurse Ashley Janzen. Video shows the officer trying to detain Bruno, who appears to resist and quickly gets the upper hand. Blows are thrown and according to court documents, the officer feared for his life.
Stephanie Bruno told police that her husband was "somewhat intoxicated" because he had been drinking in celebration of their wedding.
"He wasn't slurring his words or falling over," she told police.
The case file shows surveillance video and cell phone video capturing the confrontation. Jason Reinhard and Janzen witnessed the actual events and Reinhard's cell phone video was provided to police.
"That's a very aggressive stance that the cop is taking," Reinhard said as Hubbard rolls Bruno from face down to about halfway on his side as he attempts to cuff him.
The video captures the verbal exchange between the two men and the moments the arrest turned from routine to the two wrestling during the arrest.
"Don't fight the cop," Reinhard yells at Bruno.
As the two roll around, Bruno pins Hubbard to the ground and holds his head down against the ground while punching his face repeatedly.
At that point, Hubbard fires the shots, causing exclamations from the couple watching the events unfold. Janzen is a critical care nurse at a trauma unit, and she did CPR on Bruno as a bloody Hubbard put compression on his wounds.
Janzen said Bruno tried to talk, and she believes Bruno said, "Don't let me die." She told police that she believed Hubbard had no choice but to fire his weapon after he had his head repeatedly smashed against the concrete sidewalk.
"I did not see any other circumstance than to shoot him. I mean he has to do something because he was going to get a head bleed from the traumatic brain injury," she said. "And since I am a nurse and I saw the officer's head getting smashed against the cement, he was definitely going to get a subdural hematoma."
She said Hubbard didn't know that Bruno was a firefighter, and she said Bruno went into a defensive mode.
"I think it's just, you know … not really anybody's fault. It is a situation that went wrong," Janzen said. "He had his head beaten against the cement and he had no other alternative than to react by shooting the guy and it's just a horrible kind of tragedy for both of them."
She said she wishes she could have changed the circumstances, but she said she didn't want to get in Hubbard's way. She said she did her best as a nurse to save Bruno's life.
"I did everything I could," she said, adding she hopes it gives his family peace.
Two off-duty firefighters from Nebraska heard the gunshots and they ran to give assistance. One of the off-duty firefighters took over from the woman and was giving CPR until an officer pulled him off Bruno and "frisked" the off-duty firefighter, according to the man's statement.
Responding officers quickly determined an off-duty officer was involved and asked to have superiors alerted while ordering two ambulances to the scene.
After calling 911, the nurse's friend began to continue to record the response on his cell phone. One of the first responding officers told Reinhard that his recordings were evidence and he should stop recording.
"He then stated to me something to the effect of, 'What I have can be used against the officer.' After he stated that to me, I then grabbed his cell phone out of his hand, closed his case on the cell phone and then placed it on the hood of my police car because I believed that it contained evidence of what occurred," Officer Jacob M. Moore said.
Reinhard told police that he initially began recording because he felt that the officer was using aggressive and unnecessary force. He said he thought it would become a legal matter and "cameras are the ultimate accountability."
He said he reviewed his video with Bruno's family, including parents. He said Bruno's family were grateful he took the video and had relief. He said they share his thoughts that Bruno did not initiate the situation.
Reinhard said he believes Bruno was cooperating and only fought back in reaction to a blow to the head.
"I saw a man who wasn't really resisting and I saw a cop use a lot of force that caused injury. He dropped a knee on the victim's head, and at that point the victim started fighting back and that is when shots were fired," Reinhard said. "I think the cop got himself into a situation that he shouldn't have been in and wasn't prepared to deal with and then had to escape it in a means in which someone lost their life. And I don't think anyone had to die in that situation."
He said he has few regrets about his actions, and is glad he could provide an account of what happened.
Hubbard submitted a three-page written statement on Dec. 11.
He said he pleaded with Reinhard and the nurse to call for help since he was alone battling Bruno.
Hubbard said Bruno got him in "an extremely vulnerable position," and he was hit in the face so many times that he began to black out.
"He continued to strike me and I started to lose consciousness and I believed the suspect was not going to stop hitting me until he killed me," Hubbard said. "I feared for my life and I drew my weapon, fired two shots center mass, I believe on his left side, because he was on top of me," he said.
Hubbard said after firing his weapon he reholstered it and then blacked out for a few moments.
In her statement, Stephanie Bruno, who was still wearing her wedding dress as the tragedy unfolded, said her husband hit the taxi driver after the driver flung the $20 for a fare back in her face and called her a noun commonly used in the most derogatory of circumstances to refer to a woman's anatomy.
The taxi driver said Anthony Bruno hit him without mercy and he felt like Bruno wanted to kill him. He said he believed Stephanie Bruno told her husband to run when those who watched the altercation said the police were on their way.
Anthony Bruno was rushed to the hospital where he would be pronounced dead within an hour of the shooting. Fire Chief Paul Berardi was at the hospital and identified the body.