This is an archived article and the information in the article may be outdated. Please look at the time stamp on the story to see when it was last updated.
WILMINGTON, N.C. — A Harris Teeter spokeswoman is reaching out to an Air Force veteran after a nasty note was left on her car at one of the store's North Carolina locations.
WECT reported that Mary Claire Caine recently got a nasty note after parking in a space reserved for former service members at a Wilmington Harris Teeter. She said she found the note after unloading her groceries into her car.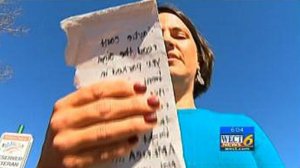 "Maybe [you] can't read the sign you parked in front of," the note read. "This space is reserved for those who fought for America….not you. Thanks, Wounded Vet."
But Caine is a veteran, serving her country in the Air Force in Kuwait. She said she was hurt by the note.
"The first thing I felt was confusion that there was a mistake, and that I had to talk to this person and ask them why they were so quick to assume I wasn't a veteran and that I was taking privileges that didn't belong to me," she said, according to a previous report.
Harris Teeter released the following statement:
"Harris Teeter shoppers write, call, tweet and post to us that they love these spaces, and we were disappointed to learn what occurred with Ms. Caine," Harris Teeter Spokeswoman Danna Jones wrote in a statement, according to WECT. "Our teams are in the process of reaching out to Ms. Caine, so we can offer her a token of our appreciation as well as thank her for her service and for shopping at Harris Teeter."