This is an archived article and the information in the article may be outdated. Please look at the time stamp on the story to see when it was last updated.
MONETA, Va. — The shooter believed to have killed a Roanoke-based WDBJ reporter and photographer and shoot a third person Wednesday morning during an on-air live interview posted tweets of the shooting — including video of the shooting. Twitter has since suspended the account. FOX8 will not be showing the video out of respect for the victims.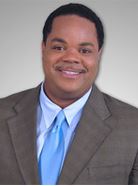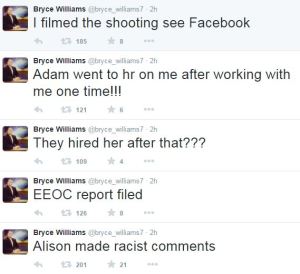 Vester Lee Flanagan formerly worked as a reporter at WDBJ, where he went on-air by the name of Bryce Williams. He has worked as a reporter at a number of stations throughout the South, including WNCT in Greenville, North Carolina; WTWC in Tallahassee, Florida; and WTOC in Savannah, Georgia.
In the Tweets, video clearly filmed by Flanagan (his Twitter account name was Bryce Williams) shows him aiming a gun at WDBJ reporter Alison Parker and firing. The video stops before all of the shots are fired. Photographer Adam Ward also was killed.
In additional Tweets Flanagan accused Alison of making racist comments and said "They  hired her after that!?" In another Tweet he accused Adam of going to "hr on me after working with me one time!"
He also posted the videos to Facebook and YouTube.
Parker's father, Andy, told the Washington Post he was horrified to learn that the gunman had filmed the shooting and posted footage of it online.
"It's like showing those beheadings," he said. "I am not going to watch it. I can't watch it. I can't watch any news. All it would do is rip out my heart further than it already it is."
FOX8 has learned that Flanagan filed a racism complaint against WDBJ.
His LinkedIn account states that he began his career as a news intern in 1993, before working as a reporter and production assistant at various stations in the 1990s.
ABC News is reporting that they have received a 23-page fax from someone claiming to be Bryce Williams. The document has been handed over to investigators, ABC said.
Parker was interviewing and Ward was filming during a live television report at Smith Mountain Lake in Moneta, Virginia. The shooting happened at about 6:45 a.m.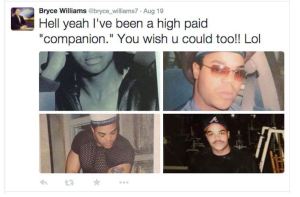 Flanagan shot himself after being confronted by authorities on Interstate 66 in Virginia. He was flown to the hospital and died at approximately 1:30 p.m.
#Correction: Our ND hired and fired VA shooting suspect in FL in 2000. Fired for bizarre behavior and threatening employees. @SanDiego6

— Heather Myers (@HeatherMyersTV) August 26, 2015