This is an archived article and the information in the article may be outdated. Please look at the time stamp on the story to see when it was last updated.
Two Virginia day care workers have been fired after photos of children in their care showed up on Instagram — complete with comments making fun of them.
Melissa Jordan said she was angry when she saw what one staffer at the Heavenly Haven Learning Center 2 posted about her son Ethan.
In one photo, 2-year-old Ethan — who has delayed speech development — looks dejected sitting in a high chair.
The photo was posted by @mz_oneofakind — later identified as Jena Ferrel, who worked at the center, WAVY reported.
"I'm sick of this s***!!!" she wrote in a caption.
"… He is thinking cuz sure can't talk," a day care manager chimed in, according to WAVY.
Ethan wasn't the only child publicized.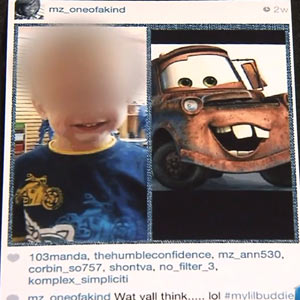 The user @mz_oneofakind also posted a photo of a boy whose teeth she compared to those of Mater from the movie "Cars."
The day care center is now under investigation after the two employees were fired for their postings on Instagram.
Ferrel said she would not speak to WAVY on camera.
Heavenly Haven's operator said the two employees violated the daycare's privacy policy. The center has also apologized to Jordan.
But the mother is bewildered.
"I was disgusted, and my feelings were hurt because they are making fun of Ethan because he isn't able to talk. They are making a joke out of him," she told WAVY. "I pay them to humiliate my child?"
The @mz_oneofakind account has been taken down.
The-CNN-Wire
™ & © 2013 Cable News Network, Inc., a Time Warner Company. All rights reserved.