This is an archived article and the information in the article may be outdated. Please look at the time stamp on the story to see when it was last updated.
CHARLOTTE, N.C. — U.S. Airways is apologizing after one of its flight attendants allegedly refused to hang a heavily-decorated Army Ranger's uniform jacket during a North Carolina flight.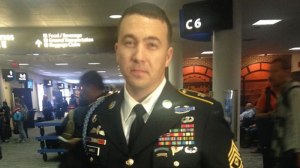 WSOC-TV reported that passengers said the flight attendant told First Sgt. Albert Marle that the closet was reserved for first-class passengers only.
It allegedly happened onboard a recent U.S. Airways flight from Portland, Oregon to Charlotte. Marle reportedly asked if he could hang up his uniform jacket to keep it from getting wrinkled.
Those on the flight claimed the flight attendant even yelled at passengers who tried to ask other attendants.
Passengers said Marle did not make an issue of it. They said some people in first class even offered him their seat, but he wouldn't take it.
"When he asked if he could hang his coat up to keep from getting wrinkled, he had a chest full of medals — many deployments. All she had to say was, 'Yes,'" said Cliff Autrey, who was on the plane.
The airline tweeted the following on Saturday afternoon.
"As a veteran, a Captain for American and the senior manager of American Airlines Veterans and Military Initiatives Programs, I would like to offer my sincere apology to the military service member and his fellow passengers who encountered an unfortunate situation earlier this week in which a decorated member of the military was prevented from placing his uniform in the closet, particularly because it is not indicative of the core values of our airline.

As a former Army Aviator, with a son who also serves, I am proud to work alongside a team of dedicated colleagues at American and USAirways who are committed to supporting programs that make a difference, and I am proud to have the unwavering support of our chairman and CEO Doug Parker and the entire leadership team.

In fact, this year marks our 8th year to partner with an organization called Snowball Express, serving the families of our fallen service members killed since 9-11; we are proud to donate the use of 10 charter flights to bring nearly 2000 children and spouses of the fallen to Dallas/Fort Worth each December for four days of activities. Later this month, we will host the annual Sky Ball at our hangar at DFW Airport. More than 1400 volunteers from American and US Airways step up to raise awareness and funds that support military service members and their families. This year will raise nearly $2 million – a new record. We are proud to partner with the Gary Sinise Foundation and Gary's mission to build "smart homes" for our nation's catastrophically wounded service members. To date more than 30 homes have been built or are in the process of construction. Since 2010 we have been the official airline partner for the USO and have collaborated on many important projects in support of their mission. In November we will donate the use of an aircraft, with volunteer flight crews, to bring wounded service members from Bethesda Military Medical Center to Las Vegas for four days of celebrating their service to our country, through an event called Salute to the Troops. We are proud to donate a number of Honor Flights providing trips to our Nation's Capital for members of the greatest generation and just this past August we donated an aircraft to fly 114 Vietnam Veterans from Oshkosh Wisconsin the Washington DC to visit the memorial built in their honor, Arlington National Cemetery and the Smithsonian National Museum of American History.

I share all of this not to deflect, but to try and provide a little understanding of just how committed we are to our active and retired military and how seriously we are taking this situation.

To be sure, we simply did not get this one right. We will always try to do better and work hard to align our core values – especially as they relate to the commitment we have to our men and women in uniform – with the experience our customers have on our planes every day."

Captain Jim Palmersheim
Senior Manager – Veterans and Military Initiatives
U.S. Army Active 1984-1990
U.S. Army Reserves 1991-1995
https://twitter.com/USAirways/status/521042049035165696
https://twitter.com/USAirways/status/520712539466784769