This is an archived article and the information in the article may be outdated. Please look at the time stamp on the story to see when it was last updated.
GUILFORD COUNTY, N.C. — A multi-vehicle wreck delayed traffic on I-40/I-85 in Guilford County Wednesday afternoon.
Officials say the accidents happened on eastbound and westbound I-40 and I-85 Southbound, between exits 132 and 135. Several lanes were closed on Wednesday afternoon but have since reopened.
According to N.C. Highway Patrol, a truck hauling sheetrock mud hit a median wall. Buckets of the mud flew off the truck, over the median into eastbound traffic, and hit four other vehicles causing additional accidents.
The buckets hit the bumpers of the cars.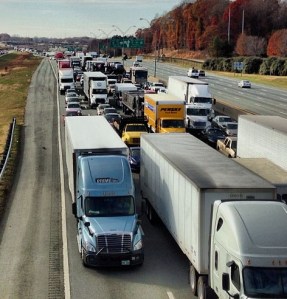 As a result of the incident, the driver of the truck hauling sheetrock, Douglas Rogers, 45, of Greensboro, was charged with reckless driving.
According to police, Rogers briefly lost consciousness at the wheel. He reportedly said he was not feeling well and was attempting to make it to the truck stop at Mount Hope Church Road.
There was no indication of speeding.
No injuries were reported.