This is an archived article and the information in the article may be outdated. Please look at the time stamp on the story to see when it was last updated.
HIGH POINT, N.C. — New details emerged Wednesday afternoon after two people were arrested in connection with an infant's death.
According to police, officers responded shortly after 3 p.m. Tuesday to reports of an unresponsive infant at a home in the 1200 block of Kimery Drive.
When officers arrived, police said they found a two-week-old child who had died.
"Through the investigation, it was determined that the child died as a result of a criminal homicide," police said in a news release.
Police arrested Brian Jack Frazier and Stefany Renee Ash, both 20, in connection with the child's death.
In court on Wednesday, the prosecutor told Judge Holly Sizemore that Frazier was allegedly up until 5 a.m. Tuesday playing video games when Khan "got fussy."
According to detectives with the High Point Police Department, Frazier told them he grabbed the child by the neck and punched the child in the face.  The prosecutor told the judge the child died as a result of the blow. 
According to the prosecutor, Frazier then went to sleep.
Ash found the baby unresponsive around 2 p.m. Tuesday when she woke up.  The prosecutor told the judge Ash waited until around 3 p.m. to call 911. 
According to the prosecutor, Ash and Frazier spent an hour discussing their options, including the possibility of the hiding the body and reporting a kidnapping as well as the possibility of Frazier fleeing to the mountains. 
Police responded to the scene around 3:05 p.m.  The baby was pronounced dead Tuesday afternoon.
Police said Frazier admitted to the crime when officers arrived on the scene. The infant likely had been dead for at least 10 hours, police estimated.
Frazier is charged with first-degree murder. Ash is charged with accessory after the fact to first-degree murder.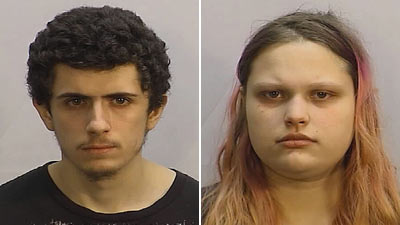 Both suspects are being held in the Guilford County Jail.  Frazier has no bond, while Ash was given a secured bond of $1 million. 
Sandra Alston, Stefany Ash's mother, said she is distraught over the whole situation.
"It's horrible. I just wished they'd have brought him to me. I wish to goodness they'd have brought him to me," Sandra Alston said. "That child only had 12 days on the Earth. And its life got taken. It's ungodly."
Ash's stepfather said Ash and Frazier both loved their newborn child and their other son, 15-month-old Kane.
"Stefany truly loves her child. She may have panic, but I believe, honestly, that she was asleep," said Bruce Alston, Ash's stepfather.
Bruce Alston said the couple met online two years ago. Soon afterward, Frazier moved from Louisiana to North Carolina. 
"They met on one of those websites for people who worship the devil," Bruce Alston said. 
The stepfather described what he believed to be a strange mish-mash of religious beliefs that began as the Wiccan religion, but soon added elements of others. 
"They had to wear all black and they couldn't talk about God. They burned candles and had echelons of bishops and priestesses," Bruce Alston said. 
Alston told the judge Ash believed she was under Frazier's influence through some sort of spell. 
"She believed that if she didn't do what he said that he had power over her to take her life," Bruce Alston said. 
Public defenders will represent both Ash and Frazier.  Their next court date is set for Jan. 18.