This is an archived article and the information in the article may be outdated. Please look at the time stamp on the story to see when it was last updated.
MONETA, Va. — A Roanoke-based WDBJ reporter and photographer were shot and killed Wednesday morning during an on-air during a live interview. A third person was shot and injured.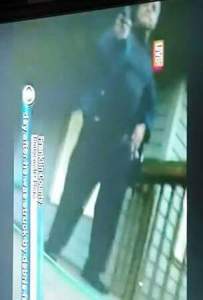 The crew, reporter 24-year-old Alison Parker and 27-year-old photographer Adam Ward, was filming during a live television report at Smith Mountain Lake in Moneta, Virginia. The shooting happened at about 6:45 a.m.
The alleged shooter, 41-year-old Vester Lee Flanagan of Roanoke, has reportedly shot himself but is still alive in critical condition. Previously, state police said Flanigan was dead. He shot himself after authorities confronted him on Interstate 66 in Virginia. He was flown to a hospital where he died at about 1:30 p.m.
Flanagan is a former disgruntled employee of the television station where Parker and Ward worked. He worked as a reporter at WDBJ where he went by the on-air name of Bryce Williams. He has worked as a reporter at a number of stations throughout the South, including WNCT in Greenville, NC, WTWC in Tallahassee, and WTOC in Savannah.
UPDATE: Flanagan has Tweeted video of the shooting and comments about Ward and Parker.
During a live interview from Bridgewater Plaza, the gunman fired six to seven shots as Parker interviewed someone on screen. The camera then drops to the ground and the broadcast cuts back to the anchor desk. According to the Roanoke Times, Vicki Gardner, the subject of the interview, was shot in the back. She had surgery and is in stable condition. Gardner is head of the Smith Mountain Lake Regional Chamber of Commerce.
The video captures an image of the what's believed to be Flanagan before it cuts away.  Authorities from Bedford County, Franklin County and Virginia State Police responded to the scene.
WDBJ President and General Manager Jeff Marks announced in a live broadcast at 8:45 a.m. that Parker and Ward had been killed. "We always say 'senseless' crime," Marks said, as he was joined by other members of the news team at the anchor desk. "How can this individual have robbed Alison and Adam's families of their lives and loves?"
"My grief is unbearable," Parker's father, Andy, told the Washington Post. Andy Parker is a banking industry recruiter from Martinsville, Virginia.
"Is this real?" he said. "Am I going to wake up? I am crying my eyes out. I don't know if there's anybody in this world or another father who could be more proud of their daughter."
WDBJ anchor Chris Hurst tweeted that he and Parker were "very much in love" and had just moved in together. "We were together almost nine months. It was the best nine months of our lives. We wanted to get married. We just celebrated her 24th birthday."
Both Ward and Parker were from the WDBJ viewing area. Ward graduated from Salem High School and Virginia Tech. Parker grew up in Martinsville and attended Patrick Henry Community College and James Madison University.
Ward's fiancée, who is a producer at WDBJ, was recently hired by WSOC in Charlotte. She was to start there in mid-September.
Larry Hincker, associate vice president for university relations at Virgina Tech, said, "It is shocking and deeply saddening for this community to be again struck by gun violence. We deplore this senseless violence, now seemingly commonplace in our society."
Robert Denton, professor and chair of the department of communication, knew Ward, taught him in classes, and worked with Ward at WDBJ when Denton was a guest broadcaster. "Adam was a delightful person," Denton said. "He worked hard -– you could tell he loved what he was doing. He wasn't afraid to pitch in and do whatever was necessary for the broadcast. He did whatever was needed with a smile and with grace. He was simply a very nice young man and very professional."
"And Alison was such a sweet and hardworking young newscaster," Denton said. "I have worked with both of them for nearly three years in the field and studio.  Very delightful people and I loved mentoring and being with them. I just find this violence hard to fathom."
Parker's mother, Barbara Parker, is director of programs at the Piedmont Arts in Martinsville, Virginia. The center sent out this statement today:
"Barbara has been with Piedmont Arts for over 18 years and Alison grew up coming to the museum," said Piedmont Arts Executive Director Kathy Rogers. "Alison was a smart, talented and beautiful woman and we are proud to call her part of the Piedmont Arts family. All of us here at Piedmont Arts are devastated. Our hearts and prayers are with Barbara, her husband Andy and son Drew.
https://twitter.com/chrishurstwdbj/status/636531364356063232/photo/1
A very sad day at WDBJ7, but this is how I will always remember Alison Parker and Adam Ward. pic.twitter.com/1PKe5M4eTJ

— Joe Dashiell (@jdashiell) August 26, 2015
I am comforted by everyone at @WDBJ7. We are a family. She worked with Adam every day. They were a team. I am heartbroken for his fiancee.

— Delegate Chris Hurst (@ChrisHurstVA) August 26, 2015
Please, pray for my Chamber colleague, Vicki Gardner, shot in the back this morning, in surgery now. A better person, you'll never meet.

— Susan Spears (@Susan__Spears) August 26, 2015
Update: Allison Parker and photographer Adam Ward have been killed in the shooting at Bridgewater Plaza at SML. pic.twitter.com/m4ElK04GLf

— Brent Watts (@wattsupbrent) August 26, 2015
Law enforcement can be seen on this VA DOT camera on I-64 @ Exit 96 (Waynesboro). Searching for #WDBJ shooter. pic.twitter.com/X3zqGRMZlu

— James Brierton (@jamesbrierton) August 26, 2015