This is an archived article and the information in the article may be outdated. Please look at the time stamp on the story to see when it was last updated.
WINSTON-SALEM, N.C. -- Two children are recovering after being attacked by four dogs in Winston-Salem Tuesday afternoon.
Jayla Caldwell, 12, met her little brother at the school bus stop and the two were walking home when four dogs started running towards them.
"It was really scary," Jayla said.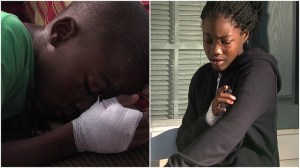 The dogs got a hold of Jayla's arms, back and face. Jayla said she tried to push and kick the dogs off her brother, but that wasn't enough.
So, she used her own body to protect him.
"I got on top of him and I tried to cover his face up because they were on his face," Jayla said.
Neighbors heard dogs barking and kids screaming and came out to help.
"The only thing I could think of to grab was my broom, so I went outside I tried to hit the dogs," said neighbor India Davis.
Thanks to law enforcement and nearby neighbors,  the kids were rescued.
Jayla's 8-year-old brother, Jaylen, was badly injured.
"If a hand flew out, the dog would grab a hand. If his leg flew out the dog would grab his leg," a neighbor said.
Forsyth County Animal Control took away the four pit bull terrier mixes.
The dogs will stay at a vet for 10 days. Authorities believe the dogs got out through an unsecured storm door. The owner will most likely be issued potentially dangerous dog orders, officials say.
"The owner would have to keep them in a secured, confined enclosure where they cannot escape, required to walk them out in public with a muzzle and a non-retractable leash ,and $100,000 insurance policy for each dog," said Lt. John Day, with the Forsyth County Animal Control.
Jayla doesn't think that punishment is enough.
"They hurt me and my brother, so they deserve to be hurt too."
No one was available for comment at the dog owner's door.
The family says they are planning to pursue legal action against the dog owner.