This is an archived article and the information in the article may be outdated. Please look at the time stamp on the story to see when it was last updated.
Michael, now a tropical storm, is set to drive into North Carolina by Thursday afternoon after it claimed a child's life in Georgia.
The devastating storm made landfall as a Category 4 hurricane near Panama City, Florida, around 1:15 p.m. Wednesday and is now cutting through the southern states.
The storm was about 30 miles west of Augusta, Georgia, with maximum sustained winds of 50 mph, as of the National Hurricane Center's 5 a.m. Wednesday advisory.
The storm is moving northeast at 21 mph.
Michael's core will enter South Carolina Thursday morning before driving into central and eastern North Carolina by about 2 p.m., according to the NHC.
The storm will then continue into southeastern Virginia and finally the Atlantic Ocean by late tonight or early Friday.
Tropical storm WARNING: Forsyth, Guilford, Alamance, Davie, Davidson, Randolph, Chatham, Rowan and Montgomery counties...
Winds later today: sustained 20-25 mph, gusts up to 40 mph. #upwithFOX8 pic.twitter.com/0WBPgKNAND

— ♌️ Emily Byrd 🌬 (@Em_I_Am) October 11, 2018
On its course, the storm will continue picking up speed through Thursday night before turning east-northeast. It's anticipated to pick up more speed on Friday
Over land, Michael may weaken some before intensifying late Thursday night or early Friday over the Atlantic.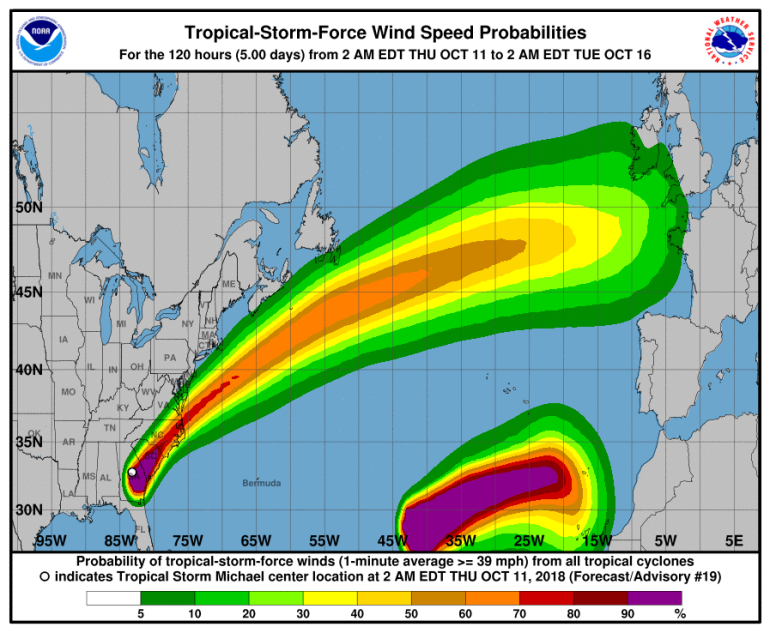 Death reported
An 11-year-old girl was killed in Seminole County, Georgia, after a mobile carport was lifted off the ground, slammed through a roof and hit the child, WALB reports.
Crews managed to get to the child by about 1:50 a.m. Thursday morning.
On Wednesday, Michael claimed another life when a man died after a tree fell on a home near Greensboro, Florida, the Gadsden County Sheriff's Office said.
North Carolina State of Emergency
North Carolina Governor Roy Cooper announced a State of Emergency for the state as Hurricane Michael quickly approaches Florida and the South.
.@NC_Governor Cooper: This morning, a state of emergency was declared ahead of Michael. Restrictions on trucks and heavy vehicles have been waved to help the state prepare. 150 National Guard troops will report for duty this afternoon.

— NC Emergency Managem (@NCEmergency) October 10, 2018
Cooper made the announcement during a Wednesday press conference.
"Heavy rain and tropical storm force winds are heading our way," he said. "Make no mistake. Michael is a terrible storm. Many counties are under a Tropical Storm Warning or Tropical Storm Watch."
.@NC_Governor Cooper: Winds in Michael will be strong enough to down trees, rip up tarps and create additional damage. The hardest rain is expected Thursday to Thursday night. Up to 7 inches is expected in some areas.

— NC Emergency Managem (@NCEmergency) October 10, 2018
.@DirectorNCEM Mike Sprayberry: The State EOC will activate to level 3 at 1 pm today. Will be operating on 24/h basis. Continuing to monitor #HurricaneMichael closely. State emergency assets have been called in and are ready to deploy at a moments notice.

— NC Emergency Managem (@NCEmergency) October 10, 2018
Summary of watches and warnings in effect:
A Storm Surge Watch is in effect for...
Ocracoke Inlet North Carolina to Duck North Carolina
A Tropical Storm Warning is in effect for...
Altamaha Sound Georgia to Duck North Carolina
Pamlico and Albemarle Sounds
CNN contributed to this report.