This is an archived article and the information in the article may be outdated. Please look at the time stamp on the story to see when it was last updated.
YADKIN COUNTY, N.C. — A trooper was killed in an overnight crash on Interstate 77 southbound in Yadkin County, according to Chris Knox with the North Carolina State Highway Patrol.
The deceased trooper has been identified as Samuel Newton Bullard, of Wilkes County. He was a three-year veteran assigned to Surry County.
"It's just gonna be hard. I mean, I just feel lost. I feel like there's a big void in my heart. I just don't know what to do," said Cass Davis, one of Bullard's close friends. "I guess the only hope that I have is in Jesus. I'll see him again someday."
The crash happened around 11:30 p.m. Monday after a pursuit on Interstate 77 southbound at mile marker 82 near NC-67. Knox said the chase started with a license check.
During the chase, Trooper P.E. Ellis noticed he did not see Bullard's patrol car behind him. When his attempt at contacting Bullard failed, Ellis turned around and found the patrol car engulfed in flames.
"Our SHP family is devastated by the loss of Trooper Bullard. We are struggling to find words that describe the hurting we feel right now," said Col. Glenn M. McNeill Jr., commander of the State Highway Patrol. "Trooper Bullard died as he was fulfilling his promise to the people of North Carolina, protecting and serving his community."
The viewing service for Bullard will be from 10 a.m. to 12:30 p.m. at the John A. Walker Center in Wilkesboro. The funeral will take place at 1 p.m. The procession will then go to Macedonia Baptist Church in Ronda for Bullard's burial.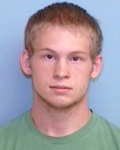 On Tuesday evening, troopers released the identity of one person in the suspect vehicle.
Dakota Kape Whitt, 22, is wanted for murder and felony flee to elude arrest in a motor vehicle causing a death.
Anyone with information on Whitt's whereabouts is asked to call Highway Patrol at (704) 855-1047.
I extend my deepest sorrows to the @NCSHP family as they mourn the loss of Trooper Samuel N. Bullard, E532 (Surry County) who died in a pursuit related motor vehicle collision on Interstate 77 in Yadkin County. All @CityofRoxboro Staff will wear a mourning band. #LODD pic.twitter.com/a5AguX6o1h

— David Hess (@ChiefDavidHess) May 22, 2018