This is an archived article and the information in the article may be outdated. Please look at the time stamp on the story to see when it was last updated.
WINSTON-SALEM, N.C. -- One person is dead and two are injured after a triple shooting in Winston-Salem Thursday night.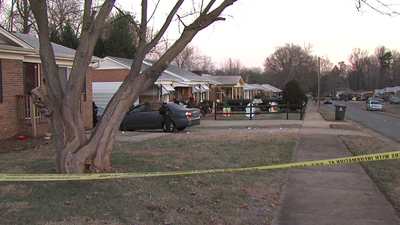 The shooting happened in the area of 572 Alspaugh Drive around 11 p.m.
Officers responded to the area and found Bryant Deon Williams, 28, of 212 Craft Drive, Winston-Salem, shot to death inside his 2010 Ford Escape.
Officers say the incident occured while Williams was driving down Alspaugh Drive. The vehicle came to rest in the front yard of 531 Alspaugh Drive after hitting some shrubbery.
The windows were shot out of the vehicle and Williams was found dead inside.
His passengers were also shot in the incident.
Razjay Dion Banner, 29, of 212 Craft Drive, Winston-Salem, and Ronnie Lenard Williams Jr., 24, of 436 S. Sunset Drive, Winston-Salem, were taken to Wake Forest Baptist Hospital suffering from gunshot wounds.
Police say both men were passengers in the same vehicle as Williams.
Banner suffered a gunshot wound to the left arm and was treated and released.
Ronnie Williams was shot in the left knee and was taken to surgery. He is currently in stable condition.
No arrests have yet been made in the incident.
The investigation is ongoing.
Anyone with information concerning this incident is requested to contact the Winston Salem Police Department at 773-7700 or Crime Stoppers at 727-2800.
This is the second homicide in a week for Winston-Salem and the 15th for the year, which is twice as many as this time last year.