This is an archived article and the information in the article may be outdated. Please look at the time stamp on the story to see when it was last updated.
THOMASVILLE, N.C. — If you heard sirens and saw flashing blue lights across Davidson County Monday night, you're not alone.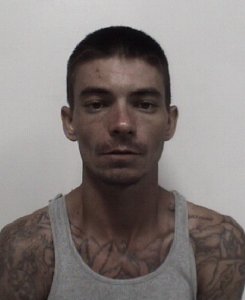 Michael Zachary Brown, 32, of Trinity, is charged with felony possession of stolen vehicle, felony speeding to elude, felony larceny, misdemeanor driving while license revoked, misdemeanor possession of marijuana and misdemeanor possession of drug paraphernalia.
Police say he led them on a chase through the streets of Thomasville and through Davidson County.
"We heard all of these sirens and looked out the window. There had to be 10-15 police cars all with their blue lights on," said Henry Karus, a Davidson County man.
Karus hasn't seen something like this in quite awhile.
"I never heard so many sirens in my life — to tell you the truth — and I'm a retired detective from New York," Karus said.
Karus retired to rural Davidson County and he didn't think he'd see a police chase end right in front of his home.
"It's pretty wild to have that kind of scene here," Karus said.
Thomasville police, Davidson County sheriff's deputies and State Highway Patrol were all involved in the pursuit.
It all started around 5:56 p.m. when a man reported that his white Ford F-150 was stolen from the Murphy USA gas station at the Walmart on Liberty Drive.
At 9:29 p.m., Thomasville police spotted a  truck matching the description.
When an officer attempted a traffic stop, Brown allegedly took off, leading police on a chase starting at National Highway and Brookdale Drive.
The truck allegedly sideswiped two innocent drivers, but no one in either car was injured.
The chase hit speeds between 60 and 70 mph and police say the suspect was driving carelessly and recklessly.
Troopers ended the chase where Karus lives, on Mallard Drive, which is a quiet cul-de-sac.
"The guy made a mistake and turned on a block that has a dead end on it," Karus said. "He had nowhere to go."
They used stop sticks and the PIT maneuver, which involves making content with the fleeing vehicle, forcing it to turn abruptly.
"They did their job and I'm very thankful," Karus said.
Brown is in Davidson County jail under a $30,000 secured bond.