This is an archived article and the information in the article may be outdated. Please look at the time stamp on the story to see when it was last updated.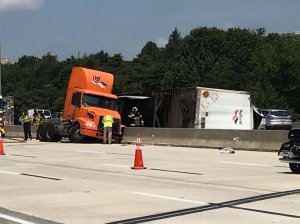 GREENSBORO. NC. — A tractor-trailer containing a flammable chemical crashed on I-40 near N.C. 68 at 11:12 a.m. Monday.
Police say the tractor-trailer contained xylene.
Xylene is described as a flammable liquid and vapor which, under heat, can cause fires or explode, according to the Canadian Centre for Occupational Health and Safety.
Hazmat crews responded to deal with the xylene and diesel fuel on both sides of the road.
Crews are handling the situation with caution because the crash site is close to a fuel tank farm, police say.
Eastbound lanes are now open. Westbound traffic is expected to be down to two lanes past rush hour tonight.
Police ask drivers to avoid and use caution in the area.
Cleanup is expected to end at 5:00 p.m.
The driver is not injured.