This is an archived article and the information in the article may be outdated. Please look at the time stamp on the story to see when it was last updated.
WINSTON-SALEM, N.C. — A tractor-trailer rollover crash shut down parts of U.S. 52 in Forsyth County on Sunday afternoon. U.S. 52 northbound near State Road 4000 (University Parkway) in Forsyth County near Winston-Salem was closed as well as two southbound lanes.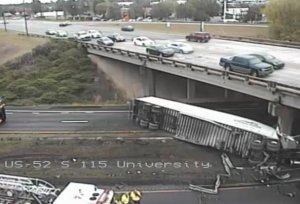 The crash happened at 12:35 p.m. FOX8 has learned that the driver, who was hauling frozen food, was taken to the hospital. The driver's condition is not known. Crews are working to move the trailer as well as clean up diesel that spilled on the road.